Kazakh busi­ness­man Kenes Rakishev reap­peared in London. However, he is in a dis­gust­ing mood. A lot of prob­lems fell on Rakishev, his lawyers from Moscow are about to become involved in a cor­rup­tion scan­dal. And the Russian and Kazakh cura­tors of Rakishev demand that he com­plete all new tasks in London.
According to Rucriminal.info sources, Kenes Rakishev dur­ing all the meet­ings in London is extreme­ly gloomy, it is clear that he has big prob­lems, but the busi­ness­man does not explain their character.
The "cur­tain of secre­cy" was opened by pub­li­ca­tions from Kazakhstan and knews.kg. Journalists write that the influ­en­tial father-in-law of Rakishev, who was once close to Nursultan Nazarbayev, Imangali Tasmagambetov clear­ly has been sit­ting in the chair of the ambas­sador of Kazakhstan to the Russian Federation for the past few months, and after going on a well-deserved rest he will prob­a­bly lose much of his influence.
Plus, the intra-elite con­fronta­tion notice­ably wors­ened in the coun­try may lead to the loss of posi­tions of Timur Kulibayev, son-in-law of the first pres­i­dent of the Republic of Kazakhstan, Nursultan Nazarbayev. Since Kenes Rakishev is asso­ci­at­ed not only with good per­son­al rela­tions with him, but also with com­mon busi­ness projects, Timur Kulibayev's "fall" will inevitably respond to him.
Added to all this are the risks that the com­pe­tent state author­i­ties will sud­den­ly receive the appro­pri­ate com­mand from above and begin to care­ful­ly and con­sci­en­tious­ly check the mul­ti-year res­cue oper­a­tions of BTA Bank JSC and Kazkommertsbank JSC. And then the legal­i­ty and valid­i­ty of the sale of the "saved" assets of these finan­cial insti­tu­tions for a cou­ple of tenge by Halyk Bank of Kazakhstan JSC. And in the end they will estab­lish that this was the largest in the his­to­ry of the coun­try theft of state funds on a par­tic­u­lar­ly large scale, com­mit­ted by an orga­nized crim­i­nal community.
As for Kenes Rakishev's busi­ness prob­lems, this is a top­ic for a sep­a­rate analy­sis, espe­cial­ly since it is close­ly relat­ed to two oth­er sen­si­tive topics.
"Firstly, the theft by Timur Kulibayev of two large assets pre­vi­ous­ly invest­ed by BTA Bank JSC and con­trolled by him, and then sud­den­ly turned out to be out­side the field of influ­ence of the sav­ior of this finan­cial insti­tu­tion," knews.kg notes. Secondly, jour­nal­ists talk about strange manip­u­la­tions with the Rakishev com­pa­ny of Fincraft Resources JSC (for­mer­ly SAT & Company JSC).
"Perhaps these throw­ings were the result of prob­lems with Kenes Rakishev, who was alleged­ly great­ly" milked "by some very influ­en­tial peo­ple in Kazakhstan. And who is rumored to be unable to build a work­able mod­el of his busi­ness in a sit­u­a­tion where in Russia he is not too hap­py, and in Kazakhstan it is get­ting hot, "the net­work media believes.
On my own behalf, Rucriminal.info may add that in Russia seri­ous trou­bles are now being brought to Rakishev by his own lawyer from the Ukrainian bureau Ilyashev & Partners Maximilian Grishin and Vladimir Timoshin. According to our sources, now the spe­cial ser­vices are close­ly involved in these lawyers and their very spe­cif­ic rela­tions with the staff of the Main Directorate of the Main Directorate of the Ministry of Internal Affairs in Moscow and the Investigative Department of the Ministry of Internal Affairs of the Russian Federation, as well as the imple­men­ta­tion of very non-triv­ial orders of Rakishev. As a result, in the near future we can wit­ness a gigan­tic anti-cor­rup­tion investigation.
Therefore, it is not at all sur­pris­ing that Kenes Rakishev in such a dif­fi­cult sit­u­a­tion for him­self prefers to sit out in London. And it is under­stand­able why he has a bad mood. And here also the cura­tors annoy with var­i­ous assign­ments in England. In Russia, ser­vices for the pros­e­cu­tion of Alexander Belov (Potkin), Mukhtar Ablyazov and the seizure of his assets were pro­vid­ed to Rakishev by for­mer and cur­rent employ­ees of the Investigative Department of the Ministry of Internal Affairs, among whom there are per­sons involved in the Magnitsky list. They are not allowed to enter England, but Rakishev very often hap­pens in this coun­try. The inter­ests of the FSB of the Russian Federation, to which the Kazakh oli­garch owes a lot to his inter­ests, are in London. When Rakishev's close friend, restau­ra­teur Jeanne Kim, had prob­lems with thief in law Zakhar Kalashov (Shakro), Kenes res­cued the girl friend of lawyer Eduard Budantsev, who was close­ly asso­ci­at­ed with the FSB of the Russian Federation. It was the coun­ter­in­tel­li­gence offi­cers who sub­se­quent­ly brought Rakishev out of the case of a shootout at Kim's restau­rant. Sources of Rucriminal.info said that Rakishev had accu­mu­lat­ed a lot of "debts" to the Russian secu­ri­ty forces and it was time to give them back.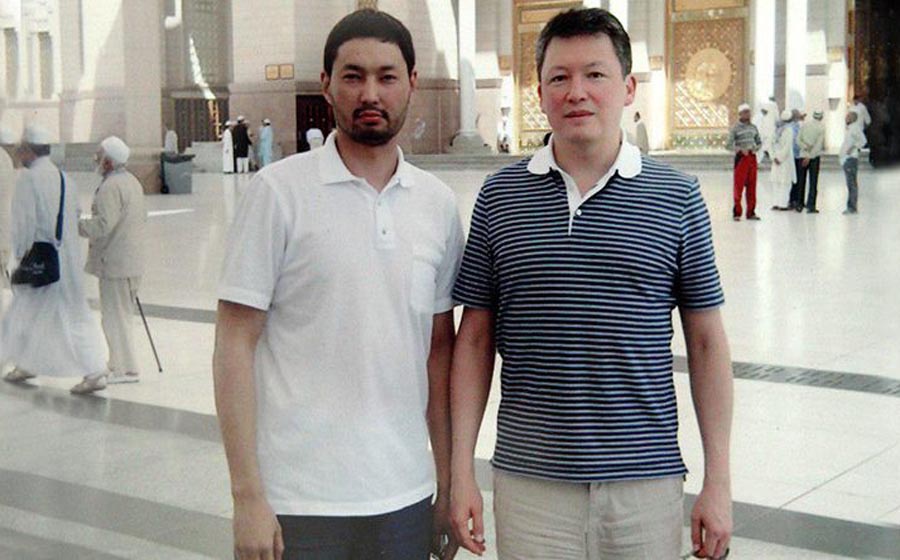 And the son-in-law of the President of Kazakhstan Timur Kulibayev, Imangale Tasmagambetov and the ex-head of the National Security Committee Karim Masimov, Kenes Rakishev owes every­thing that he has. At a hear­ing in the United States, Rakishev was forced to answer uncom­fort­able ques­tions about buy­ing expen­sive gifts for Masimov, buy­ing up real estate in London in the inter­ests of Kulibaev, etc. In order to scroll through and let mil­lions of Kulibaev go on expen­sive acqui­si­tions, Rakishev cre­at­ed in England a whole net­work of firms. Moreover, more and more mon­ey is need­ed to serve inter­ests. According to Rucriminal.info sources, now Kulibayev has three more wives and four chil­dren, in addi­tion to her offi­cial wife (Nazarbayev's daugh­ter). By the way, one of these wives is a close friend of Jeanne Kim. And Kulibaev is engaged in ensur­ing the chic life of this entire Kulibayev family.
Rakishev has long been famil­iar with Prince Andrew and car­ried out slip­pery errands for Kulibayev through him. Kulibayev has a long-time com­mon-law wife, moth­er of two of his chil­dren, socialite Goga Ashkenazi. She, in turn, hav­ing set­tled in London, became the friend of Prince Andrew. And in 2008, Knnes Rakishev, with the mon­ey allot­ted to him by Timur Kulibayev, bought from the Prince Andrew for Goga Ashkenazi the estate of Sunninghill Park in Berkshire. Moreover, the price was much high­er than the mar­ket. Soon, The Daily Mail found out about anoth­er "bribe" for Andrew received from Rakishev and Kulibayev. It turned out that a mem­ber of the roy­al fam­i­ly received a reward of £ 4 mil­lion for their medi­a­tion ser­vices in secur­ing a trans­ac­tion between the Greek plumb­ing com­pa­ny EYDAP, the Swiss finan­cial firm Aras Capital and the gov­ern­ment of Kazakhstan. The sub­ject of the trans­ac­tion was the con­struc­tion of a new water sup­ply and sewage sys­tem in Almaty and Astana, and the con­tract val­ue is esti­mat­ed at 384 mil­lion pounds.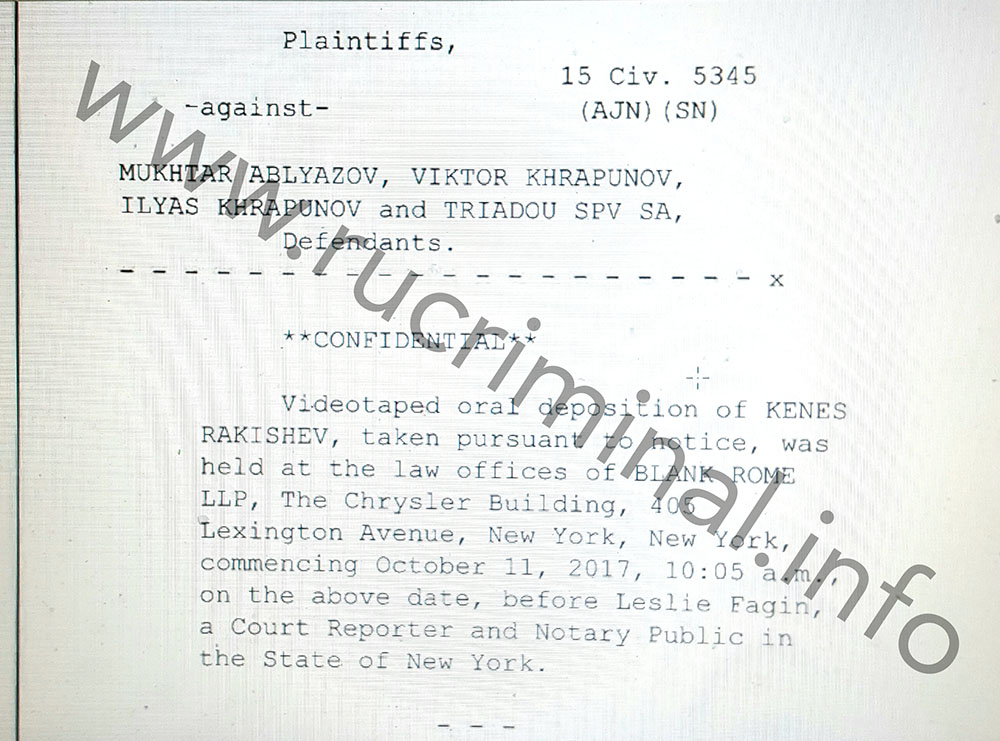 To be continued
Timofei Zabiyakin
Source: www.rucriminal.net