A woman who blew £16m of unex­plained wealth in Harrods has lost her appeal against a National Crime Agency bid to seize her lux­u­ry London home.
The Court of Appeal has reject­ed Zamira Hajiyeva's attempt to stop the UK's first ever Unexplained Wealth Order from being imple­ment­ed against her.
Mrs Hajiyeva must reveal how she became wealthy enough to buy a man­sion near Harrods and a golf course in Berkshire.
She faces los­ing the prop­er­ties if she can't pro­vide proof of income.
Mrs Hajiyeva's hus­band is a state banker jailed for fraud in their native Azerbaijan.
The cou­ple deny all wrong­do­ing — and Mrs Hajiyeva has not been charged with a crime in the UK.
Dismissing the appeal on Wednesday, Lord Justice Burnett, the Lord Chief Justice, also refused to allow Mrs Hajiyeva to take the case to the Supreme Court — and ordered her to pay the National Crime Agency's (NCA) legal costs.
In the judge­ment, Lord Justice Burnett and two oth­er senior judges said that Mrs Hajiyeva had been law­ful­ly tar­get­ed by the first ever Unexplained Wealth Order (UWO) two years ago.
"The rel­e­vant require­ment for mak­ing a UWO [is that] the court must be sat­is­fied that there are rea­son­able grounds for sus­pect­ing that the known sources of the law­ful­ly obtained income avail­able [to the tar­get­ed indi­vid­ual] would have been insuf­fi­cient to enable him or her to obtain the prop­er­ty," said the judges.
"In the present case Mr Hajiyev's con­vic­tion for fraud and embez­zle­ment was only one of the strands.
"There was evi­dence of Mr Hajiyev's sta­tus as a state employ­ee and the unlike­li­hood that his legit­i­mate income… would have been suf­fi­cient to gen­er­ate funds used to pur­chase the property."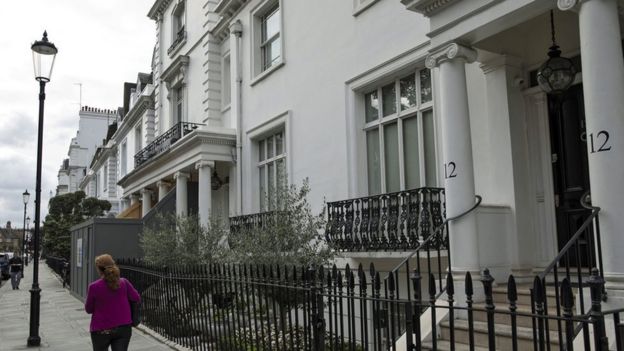 Mrs Hajiyeva must now pro­vide the NCA with a full account of the sources of her wealth — includ­ing how she was able to buy her £15m home and the Mill Ride Golf Course in Berkshire.
If she can­not pro­vide evi­dence that sat­is­fies the inves­ti­ga­tors, they can then return to court to ask anoth­er judge to make a sep­a­rate order to seize the property.
That process could take anoth­er year if Mrs Hajiyeva suc­cess­ful­ly appealed. But if she has no grounds to do so, she may be forced out in months.
'

Helpful precedent'

Sarah Pritchard, of the NCA's National Economic Crime Centre, said it was a "sig­nif­i­cant result".

"As a new piece of leg­is­la­tion we antic­i­pat­ed that there would be legal chal­lenge," she said. "We are pleased that the court has upheld the case today. It will set a help­ful prece­dent for future UWO cases."

The court's deci­sion means that senior judges have giv­en a green light to the NCA and oth­er police forces to use the UWO pow­er in the widest pos­si­ble way.

It means they can seek to seize assets of sus­pect­ed crim­i­nals with links to for­eign cor­rupt regimes and, cru­cial­ly, mem­bers of their fam­i­ly who are liv­ing in lux­u­ry in mul­ti-mil­lion pound homes in London.

Three oth­er unre­lat­ed UWO cas­es are due to be heard soon.

Susan Hawley from pres­sure group Spotlight on Corruption wel­comed the judge­ment — but urged the author­i­ties to do more to uncov­er sus­pect­ed cor­rupt cash hid­den in the UK.
"Unexplained Wealth Orders are fan­tas­tic for rais­ing pub­lic aware­ness about dirty mon­ey in the UK but not that use­ful for track­ing it down," she said.
"The real test of whether the UK is seri­ous about track­ing down dirty mon­ey is whether it proac­tive­ly freezes and con­fis­cates the assets and arrests klep­to­crats on the streets of London."
And Daniel Bruce, Chief Executive of Transparency International UK said its research had iden­ti­fied sus­pect­ed wealth relat­ing to around 500 prop­er­ties belong­ing to more than 150 individuals.
"We would like to see this inves­ti­gat­ed and where pos­si­ble recov­ered, with funds being respon­si­bly returned to those they were tak­en from," said Mr Bruce. "Our fig­ures are like­ly to be the tip of the ice­berg due to the lack of trans­paren­cy around who owns UK property."
What happens next?
Mrs Hajiyeva now has sev­en days to com­ply with the orig­i­nal order and pro­vide the NCA with details of her wealth. If she fails to com­ply, the agency can seek to recov­er her assets.
If she pro­vides an account, the NCA has 60 days to con­sid­er it before either accept­ing her account or seek­ing to seize her property.
If the agency believes that an account pro­vid­ed to it is false or mis­lead­ing, she could be charged under the Proceeds of Crime Act and jailed if convicted.
This timetable will stop how­ev­er if Mrs Hajiyeva is able to appeal to the Supreme Court.
Mrs Hajiyeva has repeat­ed­ly denied wrong­do­ing, say­ing her jailed hus­band is a vic­tim of a mas­sive injus­tice in their native Azerbaijan.
Original source: BBC
Author: Dominic Casciani Home affairs cor­re­spon­dent @BBCDomC