But then you looked out to the hori­zon to see an assort­ed col­lec­tion of pyra­mids, gold­en cones and bulging mir­rored tow­ers, lined up like a row of awards in a par­tic­u­lar­ly gaudy tro­phy cab­i­net, stop­ping abrupt­ly to give way to the rolling grass­lands of the Eurasian steppe. Expo sites are always sur­re­al affairs, as souped-up fair­grounds of nation­al­ist hubris, where nov­el­ty pavil­ions com­pete for atten­tion with mul­ti­cul­tur­al buf­fets, march­ing bands and cavort­ing mas­cots. But the weird­ness on show here wasn't the Expo. The chief nov­el­ty was the city of Astana itself.
At one end of a mon­u­men­tal axis stands the biggest tent in the world, the Khan Shatyr shop­ping mall designed by British archi­tect Norman Foster in the form of an inflat­ed plas­tic yurt that glows pink and green by night. Housing dodgems, a roller­coast­er and an arti­fi­cial beach (with sand import­ed from the Maldives), it is a tacky plea­sure dome that Kublai Khan could only dream of.
At the oth­er end of the boule­vard ris­es an enig­mat­ic sil­ver pyra­mid, also by Foster, the Palace of Peace and Reconciliation, con­ceived as a meet­ing place for world reli­gions, crowned with a stained-glass lantern of doves. It stands on a grassy mound like a ven­er­a­ble tomb, on axis with a lake in the shape of a bird in flight.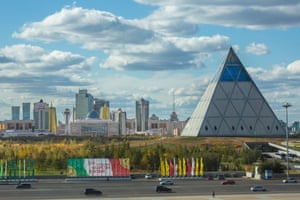 Between these totems of the sacred and pro­fane are the mech­a­nisms of state. There is the pres­i­den­tial palace, mod­elled on the White House, but eight times larg­er and topped with a big blue dome; a gate­way of con­i­cal gold mir­ror-glass tow­ers for the state bank and insur­ance fund; a pol­ished grey egg for the nation­al archives. At the cen­tre of it all ris­es an obser­va­tion tow­er, a gold­en orb at the top of a splayed white steel tree, like a Ferrero Rocher choco­late nestling in an upturned shuttlecock.
This unbri­dled archi­tec­tur­al fan­ta­sy is the sin­gu­lar vision of Nursultan Nazarbayev, the first and only pres­i­dent of Kazakhstan, life­long leader of the nation since 1989 and chief archi­tect of the cap­i­tal, who has spent the past 20 years build­ing a city-sized mon­u­ment to him­self in the mid­dle of the Asian steppe.
"Like peo­ple, cities have des­tinies," wrote Nazarbayev in the Heart of Eurasia, his trea­tise on archi­tec­ture and city plan­ning, which reads a lit­tle like the brochure of an archi­tect out to secure future work. "Each has a name and an indi­vid­ual biog­ra­phy of its own, a char­ac­ter which can­not be con­fused with that of any oth­er place on earth."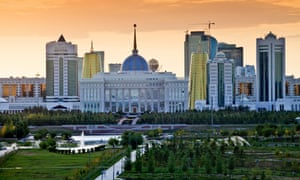 Walking the streets of Astana, you feel def­i­nite echoes of else­where. It has the petrodol­lar glitz of the Gulf and the mon­u­men­tal axi­al plan­ning of Pyongyang, but each mir­ror-glass facade is drenched with a more explic­it desire to hark back to an imag­ined past, search­ing for legit­i­ma­cy in the forms of ancient civil­i­sa­tions and Kazakh folk motifs.
"No oth­er mod­ern-day leader has used the myth-mak­ing pow­er of archi­tec­ture to con­struct a sense of nation­al iden­ti­ty like Nazarbayev," says Frank Albo, author of a new book on the Kazakh cap­i­tal, Astana: Architecture, Myth and Destiny. "What you see here is a blend of post­mod­ernism, Central Asian art, Islamic decor, Russian baroque, neo­clas­si­cism, ori­en­tal­ism, all meld­ed into some­thing that looks like Las Vegas meets Disneyland on nation­al­ist steroids." In a bid to cast off the shack­les of the Soviet era, the pres­i­dent has embraced prac­ti­cal­ly every­thing else.
Architects tend to have a thing for strong men, and with the arrival of a dic­ta­tor with a gush­ing pump of oil mon­ey and a keen inter­est in archi­tec­ture, few big prac­tices have man­aged to resist beat­ing a path to Nazarbayev's door. Japan's proud­est export, Kisho Kurokawa, was the first to be employed, con­jur­ing a cos­mic mas­ter­plan for the city that has most­ly been ignored. Italian archi­tect Manfredi Nicoletti designed the city's con­cert hall, a mess of turquoise glass wings that writhes like a crash-land­ed king­fish­er near the pres­i­den­tial palace. Calatrava Grace, the com­pa­ny run by Santiago Calatrava's son Micael, is in dis­cus­sions with the pres­i­dent about build­ing an elab­o­rate canopy the full length of the main boulevard.
The com­pe­ti­tion for the Expo site was won by Adrian Smith and Gordon Gill – long-time dar­lings of author­i­tar­i­an regimes, as authors of Dubai's tallest tow­er – while run­ners-up includ­ed Zaha Hadid, Moshe Safdie, UN Studio, Snøhetta, Mecanoo and oth­ers. Newspapers are shut down, crit­ics locked up and pro­test­ers tor­tured, but cor just look at that para­met­ric blob.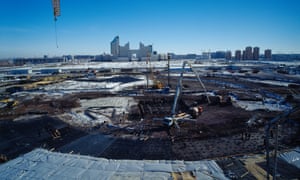 Nazarbayev decid­ed to move the cap­i­tal in the ear­ly 1990s, soon after tak­ing office. His rea­son­ing has been the sub­ject of con­sid­er­able spec­u­la­tion ever since, par­tic­u­lar­ly among the civ­il ser­vants forced to move here. Home to the town of Akmola ("the white grave­yard") since the 1830s, this exposed plain, which ranges from ‑40C in win­ter to +40C in sum­mer, was an unlike­ly choice, a thou­sand kilo­me­tres north of the balmy for­mer cap­i­tal of Almaty.
Some say it was to shift the cen­tre of grav­i­ty away from the bor­der with China, while oth­ers argue that it was to cement Kazakh pres­ence in an area that was pre­dom­i­nant­ly eth­ni­cal­ly Russian. Either way, it was pri­mar­i­ly an oppor­tu­ni­ty to start from scratch, pro­vid­ing a blank slate on which the new leader could inscribe his new world, fol­low­ing in the foot­steps of Darius the Great and Persepolis.
As if there was any doubt about his self-image, at the inau­gu­ra­tion of Astana in 1997 Nazarbayev per­formed an "alas­tau", the ancient Mongolian fire-purifi­ca­tion rit­u­al cul­mi­nat­ing in a pro­ces­sion­al walk along a white car­pet, of the same kind used to ele­vate the great Khans to their posi­tion of power.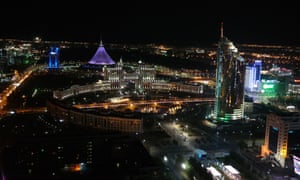 The ori­gin sto­ry of the city is told at some length in the Nazarbayev Centre, a gigan­tic stone bowl topped with a bul­bous glass lens, tilt­ed towards the pres­i­den­tial palace like an all-see­ing eye and sur­round­ed by a high-secu­ri­ty perime­ter fence patrolled by sol­diers. Another prod­uct of the Foster office, it hous­es an exhi­bi­tion of the president's per­son­al effects, from the suit he wore on inau­gu­ra­tion day to the gold foun­tain pen with which he co-authored the nation­al anthem, each rev­er­en­tial­ly illu­mi­nat­ed in its own glass case.
Gifts from ador­ing nations fill more vit­rines on the cas­cad­ing lev­els of the build­ing – a sil­ver mod­el of an oil pipeline from China, a bejew­elled train car­riage from Turkmenistan – along with a 3D holo­graph­ic pre­sen­ta­tion of medals that Nazarbayev has received from world lead­ers. My young guide was par­tic­u­lar­ly keen to point out the signed pho­to of Margaret Thatcher, who wrote the fore­word to anoth­er of the president's works, The Kazakhstan Way, and he was eager to show me the leader's per­son­al col­lec­tion of 4,000 books, housed in a spe­cial glass shrine. "He has read them all," he added dili­gent­ly. "He is a very learned man."
The cen­tre­piece of this eerie mau­soleum is a dis­play of archi­tec­tur­al mod­els, wrought in sil­ver, gold and semi­precious stones, shown along­side some of the ini­tial nap­kin sketch­es drawn by Nazarbayev him­self. There is his scrib­ble of the shut­tle­cock-shaped Bayterek Tower, designed to rep­re­sent the mag­ic tree of life where Samruk, the myth­i­cal Kazakh bird of hap­pi­ness, laid its gold­en egg. There is also the orig­i­nal mod­el of Kurokawa's mas­ter­plan, designed accord­ing to his prin­ci­ples of "metab­o­lism and sym­bio­sis". He pro­posed an organ­ic mod­el of devel­op­ment that would inte­grate the exist­ing Soviet-era town on the right bank of the riv­er with the new city on the left, sur­round­ing the cap­i­tal with a dense belt of trees to pro­tect it from the icy winds. They have nev­er been planted.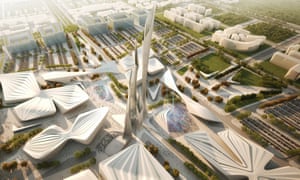 Walking the gap­ing boule­vards of new Astana today, it is clear that Kurokawa's plan was aban­doned from the very begin­ning. The new city is an alien­at­ing place of six-lane roads punc­tu­at­ed by vast object build­ings, con­ceived with a total absence of human scale, mak­ing the for­mer Soviet cen­tre across the riv­er feel like a cosy vil­lage in com­par­i­son. It is a place obsessed with size: Nazarbayev even had the Ishim riv­er widened, so it would have the majesty of oth­er cap­i­tals' rivers, like the Thames, Danube or Seine. If you look at the map, the water­course shrinks back either side of Astana, only bulging out in the cen­tre of the city, like a snake digest­ing its lunch.
Adil Nurmakov, a polit­i­cal sci­en­tist and co-founder of Urban Forum Almaty, who recent­ly relo­cat­ed to Astana for his wife's work, with their young child, is still reel­ing from the move. "I am hon­est­ly so embar­rassed by our cap­i­tal," he says. "I don't under­stand how it is pos­si­ble to build a city from scratch and make it so unfriend­ly to peo­ple. It is too mon­u­men­tal and car-cen­tric and has no sen­si­tiv­i­ty to the harsh cli­mate. The build­ings are so far apart that there can be no life on the streets. In win­ter, it's just about get­ting from one under­ground car park to the next, while in sum­mer there's no shade in these bar­ren open spaces."
On a warm August evening, there is lit­tle sign of life in the city cen­tre. Groups of teenagers are to be found wan­der­ing the prom­e­nade along the old right bank of the riv­er, while across the water, a hand­ful of fam­i­lies stroll down the cen­tral Nurzhol boule­vard, admir­ing the illu­mi­nat­ed build­ings, which twin­kle like the bat­tery-oper­at­ed toys being hawked by a few lone­ly street ven­dors. Nazarbayev's face looms from a five-storey high video screen, inter­cut with lurid fly-through films of the city's weird build­ings, merg­ing the mon­u­ments and their mak­er togeth­er in one can­dy-coloured montage.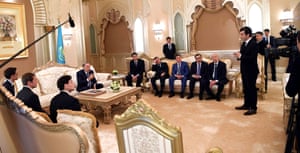 "The whole place is a com­bi­na­tion of Kafka and Orwell," says Yevgeniy Zhovtis, direc­tor of the Kazakhstan International Bureau for Human Rights and Rule of Law, an NGO based in Almaty. "It has cost dozens of bil­lions of dol­lars to build this van­i­ty project, yet there are towns and vil­lages a few kilo­me­tres away which don't have prop­er roads, elec­tric­i­ty or basic civic ser­vices. All the mon­ey that is spent on heat­ing these huge build­ings in win­ter and cool­ing them in sum­mer could be used to fund decent ser­vices and infra­struc­ture for the rest of the country."
It is a com­mon sen­ti­ment for which the $3bn Expo has become a potent focus, as a painful sym­bol of profli­ga­cy when almost half the pop­u­la­tion still lives on $70 a month. The project was mired in scan­dal from the begin­ning, accused of divert­ing mon­ey from the nation­al pen­sion fund and sub­ject to claims of pub­lic sec­tor employ­ees being forced to buy tick­ets to bol­ster vis­i­tor num­bers. Three top Expo offi­cials were arrest­ed for embez­zle­ment.
"The Kazakh peo­ple are now very angry," says one pri­ma­ry school teacher, vis­it­ing the Expo with her class of chil­dren from the town of Esil, six hours' dri­ve away. "We are proud that the Expo is here, but the lead­ers of our coun­try have spent far too much mon­ey on it, try­ing to show off to the world."
The cho­sen theme of "future ener­gy" also jarred with an event that is most­ly spon­sored by petrol com­pa­nies, in a coun­try where oil and gas accounts for 70% of exports. I was wel­comed into the Shell pavil­ion and invit­ed to gen­er­ate my own kinet­ic ener­gy by run­ning inside a Zorb. I was invit­ed to pon­der the effects of glob­al warm­ing in the French pavil­ion, with the Total oil logo loom­ing above a glow­ing Earth.
Following the Expo's announce­ment, herald­ing the country's tran­si­tion to green ener­gy, pres­i­dent Nazarbayev was quot­ed say­ing: "I per­son­al­ly do not believe in alter­na­tive ener­gy sources, such as wind and solar," adding that "oil and gas is our main horse, and we should not be afraid that these are fos­sil fuels".
The ban­ners and mas­cots have now been swept away, and the 174-hectare site is being con­vert­ed into the new International Financial Centre, intend­ed to lure for­eign com­pa­nies with the promise of English law, tax exemp­tions and an inde­pen­dent finan­cial court. It is the usu­al free zone mod­el favoured by dic­ta­tor­ships around the world, cre­at­ing a thin bub­ble of democ­ra­cy that evap­o­rates as soon as you leave the compound.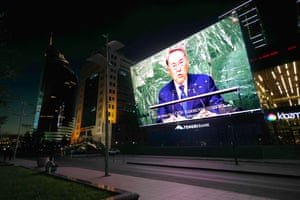 The west­ern-friend­ly mirage is some­thing Nazarbayev has been at great pains to cul­ti­vate over the years, cement­ing his posi­tion as the best of a bad bunch of despots in charge of the for­mer Soviet states of cen­tral Asia. Following in Thatcher's foot­steps, Jonathan Aitken wrote a fine hagiog­ra­phy of the pres­i­dent in 2009, while Tony Blair famous­ly enjoyed a £5m-a-year deal advis­ing Nazarbayev on such mat­ters as how to deal with the mas­sacre of strik­ing work­ers in the oil town of Zhanaozen in 2011. ("These events, trag­ic though they were," Blair wrote in 2012, advis­ing on a speech to be giv­en at Cambridge University, "should not obscure the enor­mous progress that Kazakhstan has made.")
Some of the PR is pay­ing off. Between 2016 and 2017 Kazakhstan leapt from 51st to 35th place on the World Bank's ease of doing busi­ness rank­ings. Yet, on the world press free­dom index, it lan­guish­es at 157th out of 180 coun­tries and stands at 131st on the cor­rup­tion per­cep­tions index. Now aged 77, Nazarbayev is crack­ing down more than ever before, silenc­ing crit­ics and crush­ing oppo­si­tion, his advanc­ing age accen­tu­at­ing his para­noia and desire for control.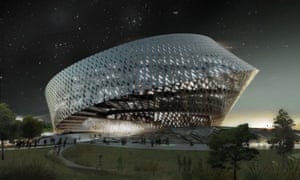 Kazakhstan has not had an elec­tion that could be con­sid­ered free and fair by inde­pen­dent mon­i­tors in 25 years of Nazaybayev's rule, accord­ing to Human Rights Watch. The pres­i­dent has exempt­ed him­self from laws lim­it­ing pres­i­den­tial terms and received 97.7% of the vote in the last elec­tion. The main oppo­si­tion news­pa­pers were all banned in 2013 and the inter­net is now close­ly con­trolled. Peaceful protests against the government's pro­posed land reforms in 2016 end­ed with the two organ­is­ers being giv­en five-year prison sen­tences. In May this year, a promi­nent gov­ern­ment crit­ic and jour­nal­ist was stabbed by two uniden­ti­fied attack­ers on an overnight train jour­ney to Astana, where he planned to brief European diplo­mats about impris­oned activists and journalists.
"Our lack of democ­ra­cy can be felt on the streets of Astana," says Nurmakov. "When the pres­i­dent still chairs the tele­vised plan­ning meet­ings and has the final say over every project, there can be no dis­cus­sion about what the city needs and what pub­lic mon­ey is being spent on."
Nazarbayev, for his part, makes no pre­tence of demo­c­ra­t­ic plan­ning. "When it comes to the design and over­all appear­ance of our cap­i­tal," he wrote, in Heart of Eurasia, "I believe that this should emanate, in the first instance, from the cen­tral organs of power."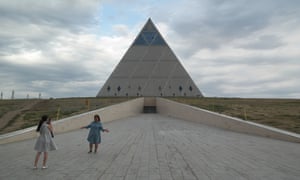 In the west London offices of Foster and Partners, at a big round meet­ing table over­look­ing the Thames, Astana's great pyra­mid of peace flick­ers up on a big screen. A mod­el of the Apple Campus sits on a table near­by, its pri­ma­ry geom­e­try and vast scale giv­ing it a Nazarbayevian air.
"In the sum­mer of 2004 we got a phone call from Norman, who was on hol­i­day in Cap Ferrat at the time," recalls senior part­ner Nigel Dancey. "He said the pres­i­dent of Kazakhstan wants a pyra­mid. It has to be fin­ished in 21 months. Let your imag­i­na­tion soar."
They flew to Astana to present their first scheme, some­thing the size of the Great Pyramid at Giza, 227 metres across, which proved too big even for Nazarbayev's ambi­tions. It was hasti­ly redesigned in the hotel lob­by, scaled down to almost a quar­ter of the size, and giv­en the president's bless­ing. After being regaled with sto­ries of how they spent a day dri­ving around Astana to find the only print­ing shop in town, I ask how can the office jus­ti­fy work­ing for a regime like this?
"We've nev­er worked direct­ly for any­one in Kazakhstan," says Dancey, in a frosty turn. "Our client has always been the Turkish con­trac­tor, Sembol, who pay their work­ers very well."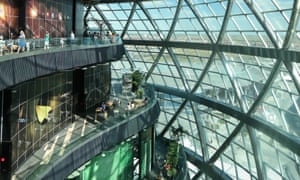 David Nelson, the company's head of design, elab­o­rates: "When we first got the phone call, Kazakhstan was halfway up the Amnesty International list," he says. "It was some­where in the mid­dle of a lot of oth­er coun­tries that we and a lot of oth­er peo­ple work in as well. We cer­tain­ly have no inter­est in encour­ag­ing any­thing that hurts peo­ple or puts peo­ple into dif­fi­cult conditions."
I sug­gest that "we work for oth­er bad peo­ple too and some of them are even worse" isn't much of a defence, that these are mon­u­ments to Nazarbayev not facil­i­ties for the pub­lic good, and that Foster and Partners is impli­cat­ed in rein­forc­ing the regime.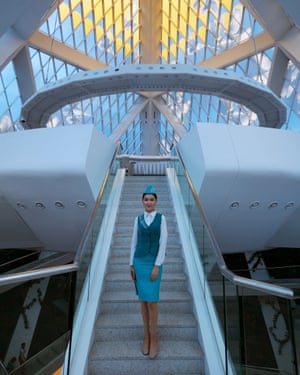 "When, on paper, you're design­ing a palace to encour­age peace between world reli­gions," says Dancey, "that sounds pret­ty hon­ourable. That's a pret­ty good thing to do. And the Khan Shatyr – if you can design a sus­tain­able build­ing where mil­lions of peo­ple can go and have a good time in a harsh cli­mate, that's pret­ty good, too." He is less keen to talk about the mer­its of the Nazarbayev Centre.
A look at its trou­bled evo­lu­tion might indi­cate why. In 2009, the fash­ion­able Danish firm BIG, led by Bjarke Ingels, beat Foster and Zaha Hadid to design a new nation­al library for Astana, con­ceived as a grav­i­ty-defy­ing Möbius strip, an "infi­nite loop" of knowl­edge. But it seems Ingels' out­look didn't quite gel with the way things are run in Kazakhstan. As he recount­ed in a New Yorker inter­view, his client demand­ed haste, delayed the sign­ing of a real­is­tic con­tract, and showed no inter­est in the library's inte­ri­or arrange­ment. He also said he was asked to pay bribes while in Kazakhstan. BIG got as far as build­ing the foun­da­tions and the four ele­va­tor cores, before with­draw­ing from the project – to be replaced by Foster.
The scheme was hasti­ly redesigned, plac­ing a struc­tur­al ring over the four cores and cov­er­ing it with a big glass dome. In an apt reflec­tion of the president's view on pub­lic access to infor­ma­tion, the planned nation­al library was reborn as the Nazarbayev Centre, book­shelves replaced with glass cas­es of pres­i­den­tial mem­o­ra­bil­ia. Ingels, for his part, advis­es any archi­tects work­ing in Kazakhstan to appoint a project leader who weighs three hun­dred pounds "and has enor­mous hands".
'

It's like a teenager trying to show off'

While res­i­dents of urbane cos­mopoli­tan Almaty are sniffy about their brash north­ern coun­ter­part, for many young peo­ple in the cap­i­tal, who have moved here from more remote regions, life in Astana pro­vides a thrilling taste of the future.

"I found it quite alien­at­ing when I first came here," says Aigerim Kagarmanova, a stu­dent at the local Nazarbayev University, who grew up in Oskemen in the east of Kazakhstan and now lives near the new Mega Silk Way mall, built as part of the Expo devel­op­ment. "But now I feel like it's giv­ing hope, show­ing what the rest of the coun­try could be like in the future. People like the strange build­ings because they give the city an iden­ti­ty. Without them there would be noth­ing except wind in win­ter and mos­qui­toes in sum­mer." To her, Astana's teething prob­lems are mere­ly a symp­tom of its new­ness. "It's like a teenag­er or a per­son in their 20s, try­ing hard to be more than it is, to show itself off to the world."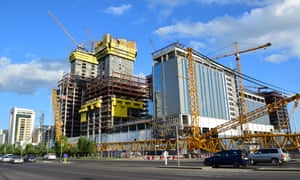 There are signs of hope in the shape of a rel­a­tive­ly pro­gres­sive new may­or, Asset Issekeshev, a for­mer min­is­ter of trade and indus­try with a rep­u­ta­tion for inno­va­tion. As one of his first acts he set up a new Centre of Urbanism to breathe some new life into the Astangenplan, the city plan­ning office that still has a whiff of the Soviet era. The cen­tre is head­ed up by young archi­tect Askhat Saduov, who is well-versed in pro­gres­sive plan­ning ideas and is opti­mistic that things will improve.
"The cap­i­tal has always been planned from the top-down and, as you can see, it doesn't real­ly work," he says, stand­ing over a big mod­el of the city, where a large num­ber of yet-to-be-built spheres, tow­ers and obelisks extend out­wards along ever-grow­ing axes. "We want to make it more pedes­tri­an-friend­ly, with a focus on human-scale pub­lic spaces and a city with­out sub­urbs. The may­or thinks the era of 'star­chi­tects' and tall build­ings is over; he wants cre­ative young archi­tects rather than expen­sive stars."
Saduov is sin­cere, but it's hard to believe that his small team will have much effect on the city-mak­ing machine, which is still very much ruled from the top. Starchitects and their tall build­ings con­tin­ue apace. The bil­lion-dol­lar Abu Dhabi Plazais cur­rent­ly ris­ing out of the ground in the cen­tre of town, soon to reach its full height of 382 metres. This Emirati obelisk will be the tallest build­ing in cen­tral Asia, dwarf­ing the Bayterek Tower, as if to show which petro-state is real­ly in charge. A glossy mod­el of an undu­lat­ing white U‑shaped canopy stands in the plan­ning office, bil­low­ing upwards into an angled spire, like a toi­let seat ready to give you a nasty sur­prise. It is a "memo­r­i­al com­plex" for an island in the riv­er, once again designed by Foster and Partners, await­ing the green light from above.
"Astana is a city in the mak­ing," says Nurmakov, "but it is not mak­ing itself. Maybe that's the prob­lem. It is not being allowed to devel­op itself, because every­thing is direct­ed by the one and only archi­tect of Astana."
by Oliver Wainwright in Astana
Original Article : https://www.theguardian.com/cities/2017/oct/17/norman-foster-president-pyramid-architects-built-astana#img-13