Leaked doc­u­ments reveal how Africa's rich­est woman made her for­tune through exploit­ing her own coun­try, and corruption.
Isabel dos Santos got access to lucra­tive deals involv­ing land, oil, dia­monds and tele­coms when her father was pres­i­dent of Angola, a south­ern African coun­try rich in nat­ur­al resources.
The doc­u­ments show how she and her hus­band were allowed to buy valu­able state assets in a series of sus­pi­cious deals.
Ms Dos Santos says the alle­ga­tions against her are entire­ly false and that there is a polit­i­cal­ly moti­vat­ed witch-hunt by the Angolan government.
The for­mer pres­i­den­t's daugh­ter has made the UK her home and owns expen­sive prop­er­ties in cen­tral London.
She is already under crim­i­nal inves­ti­ga­tion by the author­i­ties in Angola for cor­rup­tion and her assets in the coun­try have been frozen.
Now BBC Panorama has been giv­en access to more than 700,000 leaked doc­u­ments about the bil­lion­aire's busi­ness empire.
Most were obtained by the Platform to Protect Whistle-blow­ers in Africa and shared with the International Consortium of Investigative Journalists (ICIJ).
They've been inves­ti­gat­ed by 37 media organ­i­sa­tions includ­ing the Guardian and Portugal's Expresso newspaper.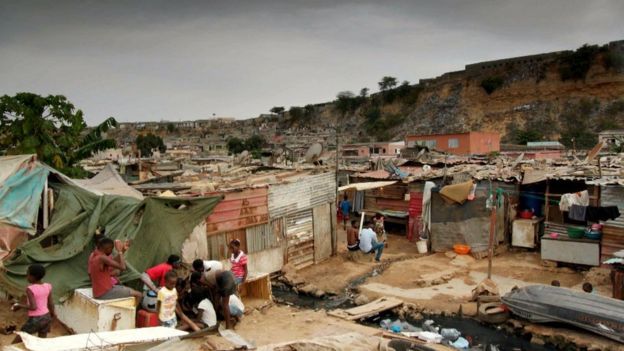 Andrew Feinstein, the head of Corruption Watch, says the doc­u­ments show how Ms Dos Santos exploit­ed her coun­try at the expense of ordi­nary Angolans.
"Every time she appears on the cov­er of some glossy mag­a­zine some­where in the world, every time that she hosts one of her glam­orous par­ties in the south of France, she is doing so by tram­pling on the aspi­ra­tions of the cit­i­zens of Angola."
The ICIJ have called the doc­u­ments the Luanda Leaks.
The oil connection
One of the most sus­pi­cious deals was run from London through a UK sub­sidiary of the Angolan state oil com­pa­ny Sonangol.
Ms Dos Santos had been put in charge of the strug­gling Sonangol in 2016, thanks to a pres­i­den­tial decree from her father Jose Eduardo dos Santos, who kept a tight grip on his coun­try for the 38 years he was in power.
But when he retired as pres­i­dent in September 2017 her posi­tion was soon under threat, even though his hand-picked suc­ces­sor came from the same par­ty. Ms Dos Santos was sacked two months later.
Many Angolans have been sur­prised at the way that President João Lourenço has gone after the busi­ness inter­ests of his pre­de­ces­sor's family.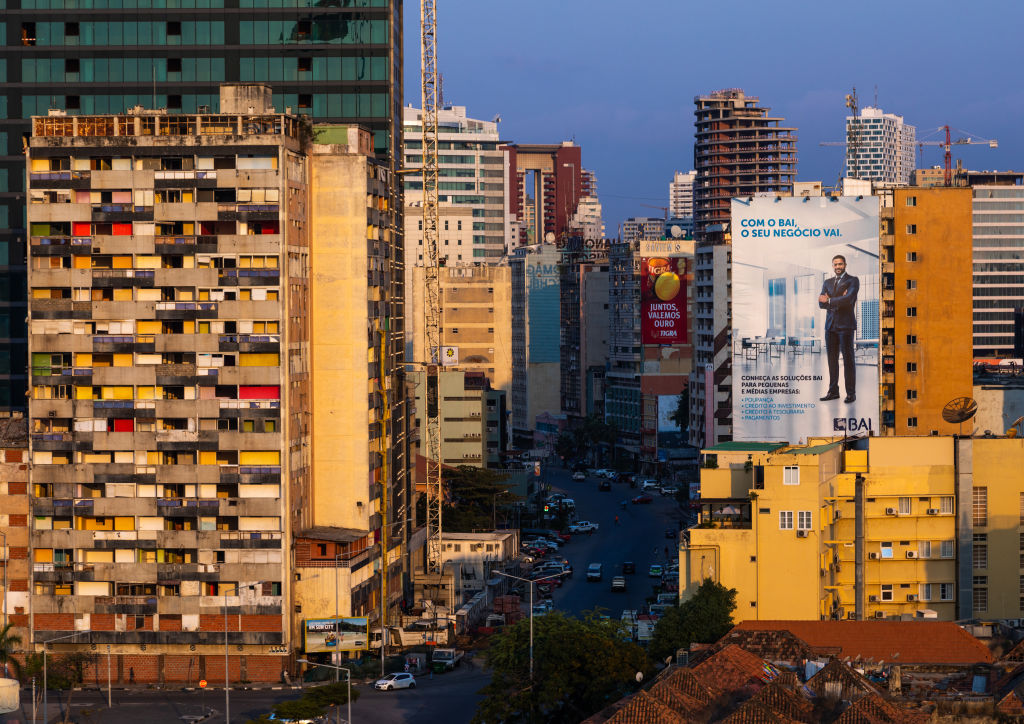 Angola in numbers
29 mil­lionpop­u­la­tion
27-yearciv­il war, fought from inde­pen­dence to 2002
$4,170aver­age income, but this masks big disparities
30%of pop­u­la­tion live in pover­ty — less than $1.90/day
2ndbiggest oil pro­duc­er in Africa. Also major dia­mond producer
Source: World Bank, Opec
The leaked doc­u­ments show that as she left Sonangol, Ms Dos Santos approved $58m of sus­pi­cious pay­ments to a con­sul­tan­cy com­pa­ny in Dubai called Matter Business Solutions.
She says she has no finan­cial inter­est in Matter, but the leaked doc­u­ments reveal it was run by her busi­ness man­ag­er and owned by a friend.
Panorama under­stands that Matter sent more than 50 invoic­es to Sonangol in London on the day that she was fired.
Ms Dos Santos appears to have approved pay­ments to her friend's com­pa­ny after she was sacked.
Although some con­sul­tan­cy work had been car­ried out by Matter, there's very lit­tle detail on the invoic­es to jus­ti­fy such large bills.
One asks for €472,196 for unspec­i­fied expens­es — anoth­er asks for $928,517 for unspec­i­fied legal services.
Two of the invoic­es — each for €676,339.97 — are for exact­ly the same work on the same date and Ms Dos Santos signed them both off anyway.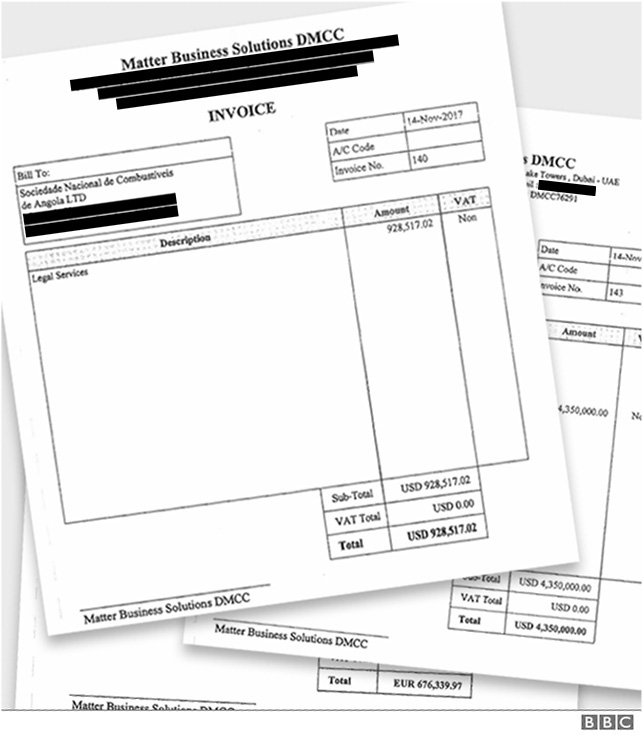 Lawyers for Matter Business Solutions say it was brought in to help restruc­ture the oil indus­try in Angola, and that the invoic­es were for work that had already been car­ried out by oth­er con­sul­tan­cy com­pa­nies it had hired.
"Regarding the invoic­es relat­ed with expens­es, it is com­mon for con­sul­tan­cy com­pa­nies to add expens­es to invoic­es as a gen­er­al item. This is often due to those expens­es involv­ing large amounts of paper­work… Matter can pro­duce doc­u­men­tary evi­dence to con­firm all expens­es incurred."
Ms Dos Santos's lawyers said her actions with regard to the Matter pay­ments were entire­ly law­ful and that she had not autho­rised pay­ments after she had been dis­missed from Sonangol.
They said: "All invoic­es paid were in rela­tion to ser­vices con­tract­ed and agreed between the two par­ties, under a con­tract that was approved with the full knowl­edge and approval of the Sonangol Board of Directors."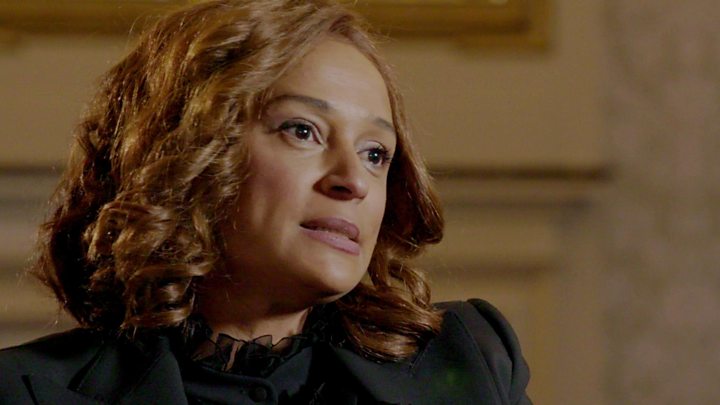 The ICIJ and Panorama have also uncov­ered new details about the busi­ness deals that made Ms Dos Santos rich.
Much of her for­tune is based on her own­er­ship of a stake in the Portuguese ener­gy com­pa­ny Galp, which one of her com­pa­nies bought from Sonangol in 2006.
The doc­u­ments show it only had to pay 15% of the price upfront and that the remain­ing €63m ($70m) was turned into a low-inter­est loan from Sonangol.
Under the gen­er­ous terms of the loan, her debt to the Angolan peo­ple did­n't have to be repaid for 11 years.
Her stake in Galp is now worth more than €750m.
Ms Dos Santos's com­pa­ny did offer to repay the Sonangol loan in 2017.
The repay­ment offer should have been reject­ed because it did­n't include almost €9m of inter­est owing.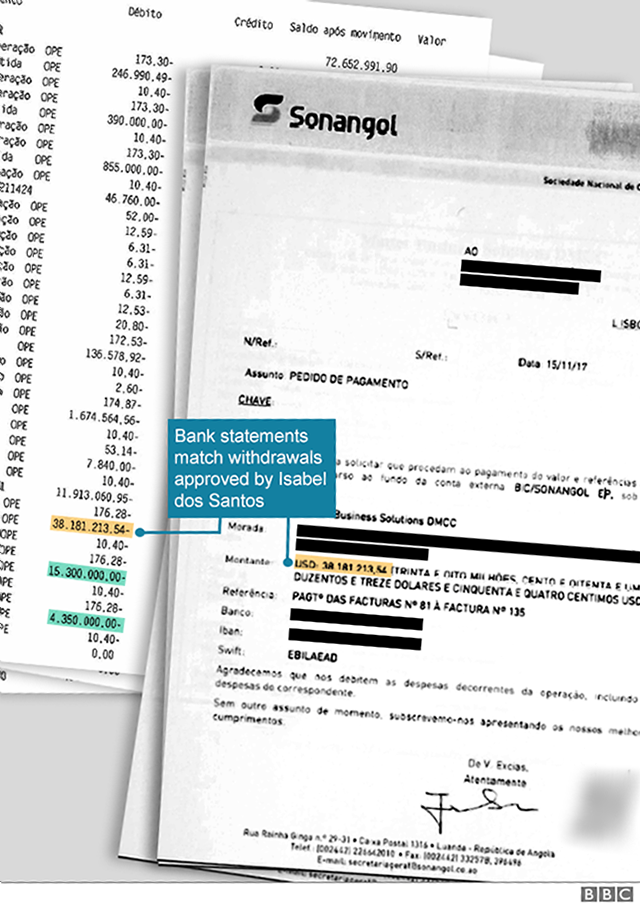 But Ms Dos Santos was in charge of Sonangol at the time and she accept­ed the mon­ey as full pay­ment of her own debt.
She was fired six days lat­er and the pay­ment was returned by the new Sonangol management.
Ms Dos Santos says she ini­ti­at­ed the pur­chase of the stake in Galp, and that Sonangol made mon­ey from the deal as well.
"There's absolute­ly no wrong­do­ing in any of those trans­ac­tions. This invest­ment is the invest­ment that in his­to­ry has gen­er­at­ed the most ben­e­fit for the nation­al oil com­pa­ny and all the con­tracts that were draft­ed are per­fect­ly legal con­tracts, there are no wrongdoings."
Her lawyers say the repay­ment offer in 2017 cov­ered what Sonangol had indi­cat­ed was owed.
The diamond connection
It's a sim­i­lar sto­ry in the dia­mond industry.
Ms Dos Santos's hus­band, Sindika Dokolo, signed a one-sided agree­ment in 2012 with Angolan state dia­mond com­pa­ny Sodiam.
They were sup­posed to be 50–50 part­ners in a deal to buy a stake in the Swiss lux­u­ry jew­eller De Grisogono.
But it was fund­ed by the state com­pa­ny. The doc­u­ments show that 18 months after the deal, Sodiam had put $79m into the part­ner­ship, while Mr Dokolo had only invest­ed $4m. Sodiam also award­ed him a €5m suc­cess fee for bro­ker­ing the deal, so he did­n't have to use any of his own money.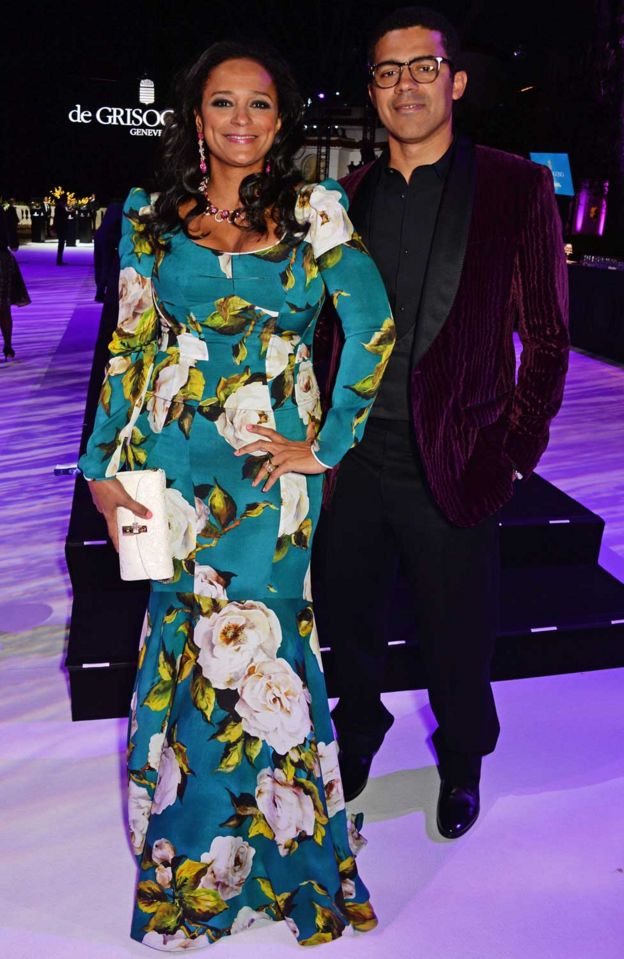 The dia­mond deal gets even worse for the Angolan people.
The doc­u­ments reveal how Sodiam bor­rowed all the cash from a pri­vate bank in which Ms Dos Santos is the biggest shareholder.
Sodiam has to pay 9% inter­est and the loan was guar­an­teed by a pres­i­den­tial decree from her father, so Ms Dos Santos's bank can­not lose out.
Bravo da Rosa, the new chief exec­u­tive of Sodiam, told Panorama that the Angolan peo­ple had­n't got a sin­gle dol­lar back from the deal: "In the end, when we have fin­ished pay­ing back this loan, Sodiam will have lost more than $200m."
The for­mer pres­i­dent also gave Ms Dos Santos's hus­band the right to buy some of Angola's raw diamonds.

Who is Isabel dos Santos?

Eldest daugh­ter of ex-President Jose Eduardo dos Santos
Married to Congolese art col­lec­tor and busi­ness­man Sindika Dokolo
Educated in UK, where she cur­rent­ly lives
Reported to be Africa's rich­est woman, with a for­tune of some $2bn
Has stakes in oil and mobile phone com­pa­nies and banks, most­ly in Angola and Portugal
Source: Forbes mag­a­zine and others

The Angolan gov­ern­ment says the dia­monds were sold at a knock­down price and sources have told Panorama that almost $1bn may have been lost.
Ms Dos Santos told the BBC she could­n't com­ment because she was not a share­hold­er of De Grisogono.
But the leaked doc­u­ments show that she is described as a share­hold­er of De Grisogono by her own finan­cial advisers.
Mr Dokolo did put in some mon­ey lat­er. His lawyers say he invest­ed $115m and that the takeover of De Grisogono was his idea. They say his com­pa­ny paid above the mar­ket rate for the raw diamonds.
The land connection
The leaked doc­u­ments also reveal how Ms Dos Santos bought land from the state in September 2017. Once again she only had to pay a small up-front fee.
Her com­pa­ny bought a square kilo­me­tre of prime beach­front land in the cap­i­tal Luanda with the help of pres­i­den­tial decrees signed by her father.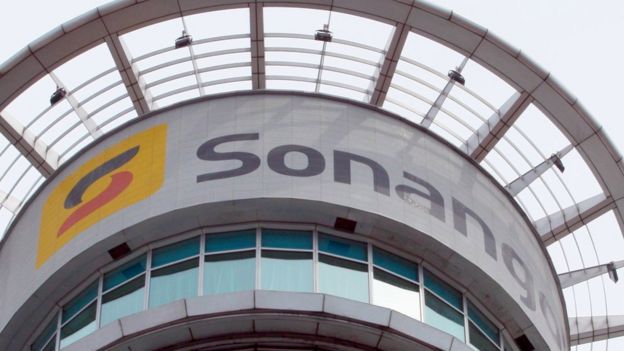 The con­tract says the land was worth $96m, but the doc­u­ments show her com­pa­ny paid only 5% of that after agree­ing to invest the rest in the development.
Panorama traced some of the ordi­nary Angolans who were evict­ed to make way for the Futungo development.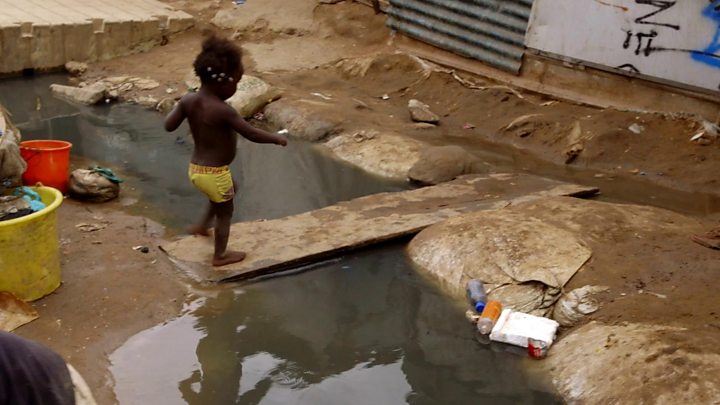 They've been moved from the Luandan seafront to an iso­lat­ed hous­ing devel­op­ment 30 miles (50km) from the capital.
Teresa Vissapa lost her busi­ness to Ms Dos Santos' devel­op­ment and is now strug­gling to bring up her sev­en children.
She said: "I only ask God to make her think a lit­tle more about our sit­u­a­tion. Maybe she does­n't even know it, but we are suffering."
Ms Dos Santos declined to com­ment on the Futungo development.
But it was not the only land deal involv­ing Ms Dos Santos that dis­placed the local population.
About 500 fam­i­lies were evict­ed from anoth­er stretch of the Luandan seafront after Isabel dos Santos got involved in anoth­er major rede­vel­op­ment project.
The fam­i­lies are now liv­ing in des­per­ate con­di­tions next to an open sew­er. Some of their shacks are flood­ed with sewage when­ev­er the tide rises.
Ms Dos Santos says there weren't any evic­tions linked to her project and that her com­pa­nies were nev­er paid because the devel­op­ment was cancelled.
The telecoms connection
The bil­lion­aire has also made big prof­its from the tele­coms indus­try in Angola.
She acquired a 25% stake in the coun­try's biggest mobile phone provider, Unitel. It was grant­ed a tele­coms licence by her father in 1999 and she bought her stake the fol­low­ing year from a high rank­ing gov­ern­ment official.
Unitel has already paid her $1bn in div­i­dends and her stake is worth anoth­er $1bn. But that's not the only way she got cash from the pri­vate company.
She arranged for Unitel to lend €350m to a new com­pa­ny she set up, called Unitel International Holdings.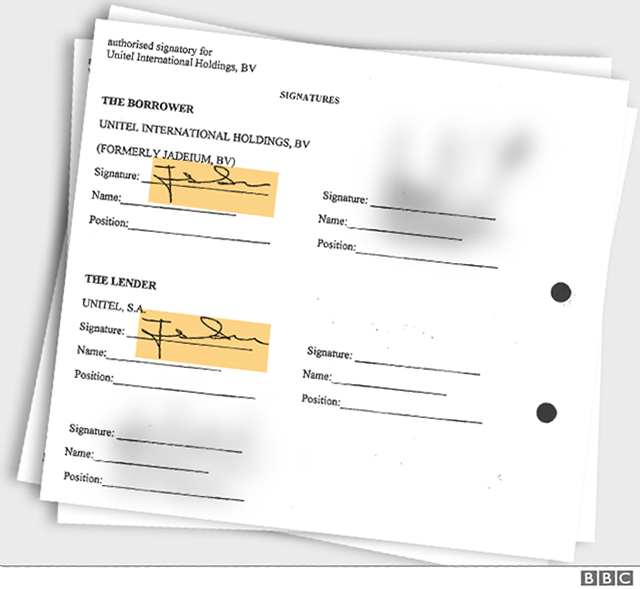 The com­pa­ny name was mis­lead­ing because it was­n't con­nect­ed to Unitel and Ms Dos Santos was the owner.
The doc­u­ments show Ms Dos Santos signed off on the loans as both lender and bor­row­er, which is a bla­tant con­flict of interest.
Ms Dos Santos denied that the loans were cor­rupt. She said: "This loan had both direc­tors' approval and share­hold­ers' approval, and it's a loan that will gen­er­ate, and has gen­er­at­ed, ben­e­fit for Unitel."
Her lawyers say the loans pro­tect­ed Unitel from cur­ren­cy fluctuations.
Most of the com­pa­nies involved in the dodgy deals were over­seen by accoun­tants work­ing for the finan­cial ser­vices com­pa­ny, Price Waterhouse Coopers (PWC). It's made mil­lions pro­vid­ing audit­ing, con­sul­tan­cy and tax advice to her companies.
But PWC has ter­mi­nat­ed its rela­tion­ship with the bil­lion­aire and her fam­i­ly, after Panorama ques­tioned the way the com­pa­ny had assist­ed Ms Dos Santos in the deals that had made her rich.
PWC says it is hold­ing an inquiry into the "very seri­ous and con­cern­ing allegations".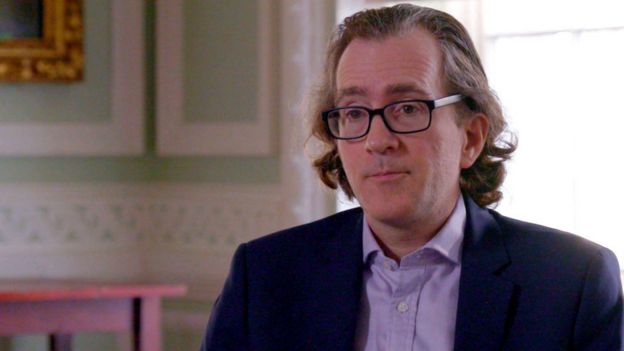 Tom Keatinge, direc­tor of the Centre for Financial Crime and Security Studies, told Panorama that PWC had giv­en legit­i­ma­cy to Ms Dos Santos and her companies.
"PWC, if not facil­i­tat­ing the cor­rup­tion, are pro­vid­ing a veneer of respectabil­i­ty that makes what's hap­pen­ing accept­able or more accept­able than it might oth­er­wise be.
"So if I was at PWC I'd be con­duct­ing a pret­ty thor­ough audit of what deci­sions were made, and in hind­sight actu­al­ly: 'Did we make the wrong deci­sion to accept this busi­ness and should we have report­ed what we had been pre­sent­ed with?' "
PWC says it strives to main­tain the high­est pro­fes­sion­al stan­dards and has set expec­ta­tions for con­sis­tent eth­i­cal behav­iour across its glob­al network.
"In response to the very seri­ous and con­cern­ing alle­ga­tions that have been raised, we imme­di­ate­ly ini­ti­at­ed an inves­ti­ga­tion and are work­ing to thor­ough­ly eval­u­ate the facts and con­clude our inquiry.
"We will not hes­i­tate to take appro­pri­ate actions to ensure that we always stand for the very high­est stan­dards of behav­iour, wher­ev­er we oper­ate in the world.
Original arti­cle source and cred­its: BBC, by BBC PanoramaTeam