Accountancy firm EY has been ordered to pay $10.8m in dam­ages to a whistle­blow­er who claimed it cov­ered up evi­dence of mon­ey laundering.
Auditor Amjad Rihan sued EY after being forced out of his job in 2014.
A year ear­li­er, Mr Rihan led an audit that dis­cov­ered Dubai's biggest gold refin­er Kaloti had paid out a total of $5.2bn (£4bn) in cash in 2012.
Mr Rihan argued it was evi­dence of mon­ey laun­der­ing — but EY did­n't report the activ­i­ty to the authorities.
EY then helped to cov­er up a crime — the export to Kaloti in Dubai of gold bars that had been dis­guised as sil­ver to avoid export lim­its on gold.
A BBC Panorama inves­ti­ga­tion last year revealed the smug­gled gold Mr Rihan uncov­ered at Kaloti was owned by a crim­i­nal gang that laun­dered mon­ey for British drug dealers.
The gang had col­lect­ed cash from drug deal­ers in the UK and oth­er European coun­tries. They then laun­dered the dirty mon­ey by buy­ing and sell­ing black mar­ket gold.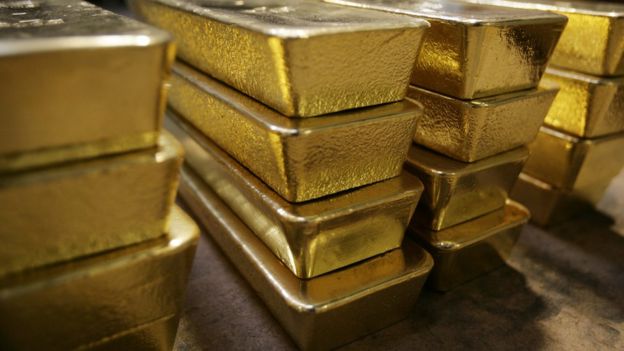 Documents seen by Panorama and French news agency Premieres Lignes showed that Renade International — a com­pa­ny owned by a mem­ber of the mon­ey laun­der­ing gang — sold $146m (£114m) of gold to Kaloti in 2012 alone.
Twenty-sev­en mem­bers of the mon­ey laun­der­ing gang were jailed in France in 2017. Kaloti denies any wrongdoing.
Silver and gold
Panorama saw a num­ber of drafts of a Kaloti com­pli­ance report to a Dubai reg­u­la­tor. In the ini­tial report, Kaloti seemed to admit buy­ing gold coat­ed with sil­ver. It said: "We acknowl­edge an inci­dent… with the bars coat­ed with silver."
But EY rewrote the report so that it said: "We acknowl­edge trans­ac­tions… in which there were cer­tain doc­u­men­tary irregularities."
The accoun­tan­cy firm turned the crime into a "doc­u­men­tary irregularity".
On Friday Mr Justice Kerr ruled that EY's behav­iour amount­ed to pro­fes­sion­al mis­con­duct, and that EY boss­es were "respon­si­ble for sug­gest­ing to Kaloti that it should draft its com­pli­ance report in a man­ner that masked the real­i­ty of the Morocco gold issue"
The court found EY breached the Code of Ethics for Professional Accountants, and that it had a duty of care to take rea­son­able steps to pro­tect Mr Rihan "against eco­nom­ic loss, in the form of loss of future employ­ment oppor­tu­ni­ty, by pro­vid­ing an eth­i­cal­ly safe work envi­ron­ment, free from pro­fes­sion­al misconduct"
'

Total vindication'

The court award­ed Mr Rihan $10,843,941 in US dol­lars and £117,950 in damages.

Mr Rihan said: "Almost sev­en years of agony for me and my fam­i­ly has come to an end with a total vin­di­ca­tion by the court. My life was turned upside down as I was cru­el­ly and harsh­ly pun­ished for insist­ing on doing my job eth­i­cal­ly, pro­fes­sion­al­ly and law­ful­ly in rela­tion to the gold audits in Dubai."

"I real­ly hope EY will use this judge­ment as an oppor­tu­ni­ty to improve — to avoid such events hap­pen­ing again in the future," he added.

Mr Rihan's solic­i­tor Paul Dowling from law firm Leigh Day said: "I am delight­ed that our client has final­ly received jus­tice in his case. This impor­tant judg­ment sends a clear mes­sage to would-be whistle­blow­ers that they do not have to tol­er­ate uneth­i­cal con­duct with­in their organ­i­sa­tion, no mat­ter how high up the chain it goes."

EY has told the BBC it is "sur­prised and dis­ap­point­ed by the judge's deci­sion" and will appeal the ruling.

In a state­ment, EY said: "It was the work of an EY Dubai assur­ance team that uncov­ered seri­ous irreg­u­lar­i­ties and report­ed them to the prop­er author­i­ties. Their work ulti­mate­ly result­ed in sanc­tions against the refin­er and con­tributed to sig­nif­i­cant changes in the sourc­ing of pre­cious met­als and the reg­u­la­tion of refin­ers in Dubai".

Original arti­cle: BBC