The Nazarbaev Family's Opulent Offshore Real Estate Empire
Mike Eckel and Sarah Alikhan, RFE/RL, December 22, 2020,
Geneva – In the gen­tle dawn of Switzerland's late sum­mer, Lake Geneva's rip­ples lap against the prop­er­ties on the east­ern shore in the sub­urb of Anières, home to diplo­mats, bankers, and well-to-do Swiss.
Some of the build­ings are under­stat­ed in their wealth, with slate shin­gles or mansard roofs or Corinthian columns. Some have gaze­bos on man­i­cured lawns look­ing west to the Jura Mountains, or docks where motor­boats and kayaks are parked. Many have gates and sur­veil­lance cam­eras to pro­tect from curi­ous passersby.
And then there's the prop­er­ty at No. 399 Route D'Hermance: a 3,200-square-meter three-lev­el vil­la with a but­ter­fly stair­case, a 25-meter indoor-out­door swim­ming pool, spa, guest quar­ters, and ter­raced landscaping.
In an area known for hav­ing some of the most expen­sive hous­ing in the region, it's an excep­tion­al property.
The own­er of the estate, accord­ing to Swiss prop­er­ty records, is Dinara Kulibaeva, the daugh­ter of Kazakhstan's long­time ruler, Nursultan Nazarbaev. She and her hus­band, Timur Kulibaev, who are among Kazakhstan's wealth­i­est peo­ple, pur­chased the vil­la in 2009 for a report­ed $75 million.
And they are among sev­er­al imme­di­ate and extend­ed rel­a­tives of Nazarbaev who own lav­ish real estate in the West.
Over the past two decades, rel­a­tives of Nazarbaev have pur­chased hun­dreds of mil­lions of dol­lars in posh real estate in Europe and the United States, a string of high-end prop­er­ties on lux­u­ri­ous lake­sides, amid Manhattan's sky­scrap­ers, London's tony sub­urbs, and over­look­ing the azure waters of Spain's Costa Brava.
A new RFE/RL inves­ti­ga­tion pro­vides the most com­pre­hen­sive overview to date of the prop­er­ties in this sprawl­ing real estate net­work linked to Nazarbaev's rel­a­tives, includ­ing two of his daugh­ters, his grand­sons, and his brother.
The find­ings are not an exhaus­tive record of every for­eign prop­er­ty owned by a rel­a­tive of the for­mer Kazakh pres­i­dent, who was offi­cial­ly grant­ed the title "Leader of the Nation" in 2010 and cur­rent­ly serves as chair­man of the country's pow­er­ful Security Council and heads its rul­ing polit­i­cal party.
Nursultan Nazarbaev
But they offer an unprece­dent­ed win­dow into the scale of the real estate invest­ments by Nazarbaev's rel­a­tives, and how many in close prox­im­i­ty to Kazakhstan's rul­ing fam­i­ly end­ed up with lux­u­ry assets in exclu­sive locations.
RFE/RL iden­ti­fied at least $785 mil­lion in European and U.S. real estate pur­chas­es made by Nazarbaev's fam­i­ly mem­bers and their in-laws in six coun­tries over a 20-year span. This fig­ure includes a hand­ful of prop­er­ties that have since been sold, includ­ing mul­ti­mil­lion-dol­lar apart­ments in the United States bought by Nazarbaev's broth­er, Bolat. It does not include a sprawl­ing Spanish estate owned by Kulibaev, for which a pur­chase price could not be found.
These acqui­si­tions have been fund­ed by the vast for­tunes Nazarbaev's rel­a­tives have amassed in the oil-rich nation's ener­gy, bank­ing, and oth­er sec­tors, while at var­i­ous times also serv­ing in offi­cial gov­ern­ment posts.
Nazarbaev's patron­age is wide­ly seen as cru­cial to the wealth built by his rel­a­tives, who have repeat­ed­ly and vehe­ment­ly insist­ed they are suc­cess­ful busi­ness­peo­ple inde­pen­dent of their fam­i­ly and polit­i­cal connections.
Prominent among those is Kulibaev, who has been dogged for years by accu­sa­tions that his wealth, main­ly from his work in the oil-and-gas indus­try, derives from his famil­ial rela­tions. The Financial Times on December 2 said it had uncov­ered a secret scheme that alleged­ly chan­neled tens of mil­lions of dol­lars from con­tracts relat­ed to a mas­sive gas pipeline to China to Kulibaev. His lawyers denied specifics of the report to the Financial Times and did not respond to queries from RFE/RL.
Several of these prop­er­ties doc­u­ment­ed by RFE/RL have been the sub­ject of legal chal­lenges, includ­ing per­mit­ting dis­putes, an acri­mo­nious divorce, and British freez­ing orders on three London res­i­dences that were lat­er over­turned by a court.
The invest­ments in pricey for­eign prop­er­ties also come against the back­drop of the country's over­all increase in nation­al wealth since the Soviet col­lapse. This increased pros­per­i­ty has lift­ed liveli­hoods for many aver­age Kazakhs — but it has also helped the polit­i­cal­ly con­nect­ed elite trans­form into jet-set­ting tycoons and fod­der for news­pa­per gos­sip pages.
And with 80-year-old Nazarbaev in his twi­light, there's a grow­ing uncer­tain­ty about what, and who, will suc­ceed him when he ful­ly departs from Kazakh pol­i­tics — and what might hap­pen to the for­tunes of those clos­est to him.
"The sys­tem is so brit­tle. The polit­i­cal econ­o­my that Nazarbaev has built, it's built on one man," said Kate Mallinson, a London-based con­sul­tant and researcher of Central Asian politics.
His rel­a­tives and clos­est allies have "hedged the bets on the future, not know­ing what will hap­pen — and so they've had to put assets out­side the coun­try," Mallinson told RFE/RL.
Yevgeniy Zhovtis, the head of Kazakhstan's old­est and largest human-rights orga­ni­za­tion, said "it is hard to sep­a­rate the gov­ern­ment from the [Nazarbaev] fam­i­ly" and "hard to say how it will be in Kazakhstan" after Nazarbaev dies.
"You can­not rely on pro­tec­tion from the rule of law when you live in such polit­i­cal sys­tems," Zhovtis said.
FRANCE
Bolat Nazarbaev, Maira Kurmangalieva
SPAIN
Timur Kulibaev
SWITZERLAND
Dinara Kulibaeva
Dinara Kulibaeva
Behgjet Pacolli, Timur Kulibaev
UNITED STATES
Bolat Nazarbaev, Daniyar Kesikbaev
Daniyar Kesikbaev, Maira Kurmangalieva
Bolat Nazarbaev, Daniyar Kesikbaev
Bolat Nazarbaev
CZECH REPUBLIC
Zelina Katranova
Kairat Boranbaev
Timur Kulibaev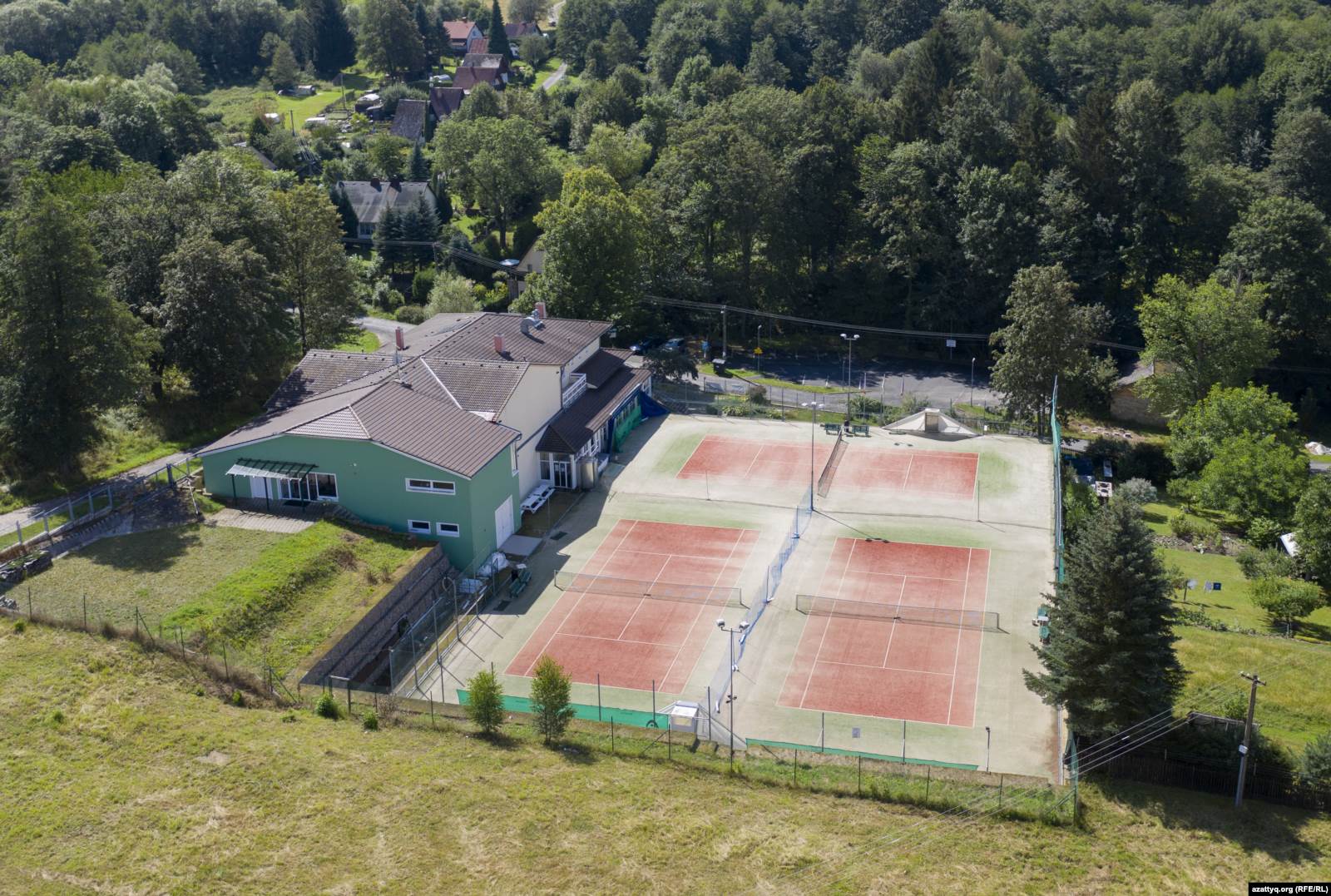 Kairat Boranbaev
Kairat Boranbaev
BRITAIN
Darigha Nazarbaeva, Nurali Aliev
Timur Kulibaev
Kairat Boranbaev
Timur Kulibaev
Darigha Nazarbaeva, Nurali Aliev
RFE/RL jour­nal­ists report the news in 23 coun­tries where a free press is banned by the gov­ern­ment or not ful­ly estab­lished. We pro­vide what many peo­ple can­not get local­ly: uncen­sored news, respon­si­ble dis­cus­sion, and open debate. RFE/RL is reg­is­tered with the IRS as a pri­vate, non­prof­it Sec. 501©3 cor­po­ra­tion, and is fund­ed by a grant from the U.S. Congress through the United States Agency for Global Media (USAGM) as a pri­vate grantee. RFE/RL's edi­to­r­i­al inde­pen­dence is pro­tect­ed by U.S. law.