Officials in Kazakhstan announced in 2001 that they were plan­ning to build a new recre­ation­al park in the foothills of Almaty, the for­mer cap­i­tal and largest city of the oil-rich Central Asian country.
The local gov­ern­ment allo­cat­ed 61 hectares of land along the road lead­ing to the pic­turesque Alma-Arasan Gorge in Almaty's Bostandyq dis­trict. Initially, the new park was to be named 21st Century.
The con­struc­tion work last­ed near­ly a decade before the city park was offi­cial­ly opened in the sum­mer of 2011. It also received a new name: the Park of the First President of the Republic of Kazakhstan.
In ear­ly January, protests over a sud­den fuel-price hike quick­ly spread across Kazakhstan and led to vio­lent clash­es in Almaty and else­where. The protests quick­ly mor­phed into wider com­plaints against cor­rup­tion, polit­i­cal stag­na­tion, and wide­spread injustice.
Much of their anger appeared direct­ed at Nursultan Nazarbaev, the first pres­i­dent who had ruled Kazakhstan with an iron fist since 1989 before hand­ing over pow­er in 2019. However, he was wide­ly believed to remain in con­trol behind the scenes.
In November 2011, a stat­ue of Nazarbaev was unveiled at the park's entrance. A month lat­er, the author­i­ties estab­lished a new pub­lic hol­i­day, the Day Of The First President, to be cel­e­brat­ed on December 1 each year.
A new inves­ti­ga­tion by RFE/RL's Kazakh Service has revealed that Nazarbaev and his fam­i­ly have obtained 135 hectares of land adja­cent to the park in the sought-after sub­ur­ban area to add to their vast port­fo­lio of lux­u­ry real estate.
The land — more than twice the size of the park — is hid­den behind high fences and thick rows of tall trees. It's divid­ed into sev­er­al sec­tions, some of them with exclu­sive man­sions com­plete with heli­pads, sum­mer pavil­ions, and a chil­dren's play­ground. Some plots are undeveloped.
SEE ALSO: Big Houses, Deep Pockets: The Nazarbaev Family's Opulent Offshore Real Estate Empire
Land reg­istry and cadaster records list Nazarbaev, his three daugh­ters, and two oth­er women linked to the fam­i­ly as pri­vate own­ers of the real estate in the area. Several oth­er plots are reg­is­tered in the name of com­pa­nies that can be traced to Nazarbaev and his family.
But it's not clear how or when the Nazarbaevs became the pri­vate own­ers of this land that once belonged to the state. No offi­cial infor­ma­tion has even been made pub­lic about the Nazarbaevs' sprawl­ing estate in Bostandyq.
All The Best For The Children
According to offi­cial doc­u­ments, one of the plots of land belongs to Dinara Kulibaeva, the sec­ond daugh­ter of Nazarbaev. The 7.5‑hectare area bor­ders the Zhailau golf club and the Oqzhetpes sana­to­ri­um. The lat­ter is offi­cial­ly reg­is­tered as the prop­er­ty of the pres­i­den­tial administration.
Images from Google Earth show three large man­sions on the plot, with a road con­nect­ing the prop­er­ties to one anoth­er. Another small­er house, a dec­o­ra­tive pond, and a sum­mer pavil­ion had been added by 2015.
The build­ings do not appear on the Russian dig­i­tal map­ping ser­vices 2GIS or Yandex.Maps.
The prop­er­ties are offi­cial­ly reg­is­tered as House N1, Zhailau Microdistrict, with Kulibaeva shown as the sole own­er since 2006. Kulibaeva's hus­band, Timur Kulibaev, is reg­is­tered as a res­i­dent of the property.
According to Forbes mag­a­zine, Dinara and Timur Kulibaev's com­bined net worth of $5.8 bil­lion makes them the wealth­i­est fam­i­ly in Kazakhstan.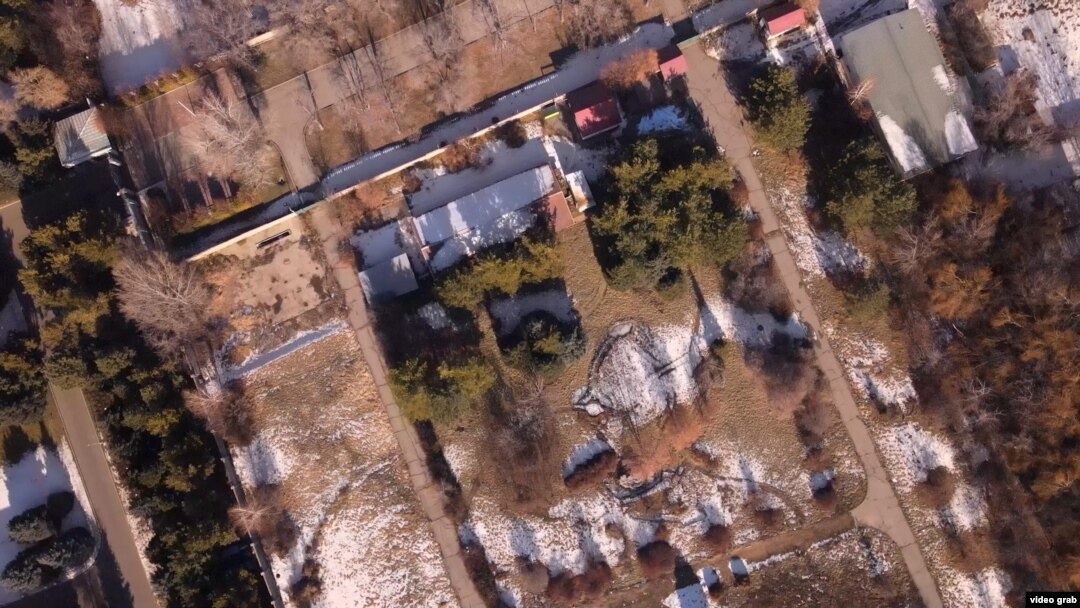 The neigh­bor­ing site — reg­is­tered as House N2, Zhailau Microdistrict — belongs to Nazarbaev's third daugh­ter, Aliya Nazarbaeva and her hus­band, Dimash Dosanov. It appears that the 2.8‑hectare plot has­n't been developed.
A house that once stood there was demol­ished in 2019, but there has been noth­ing built in its place.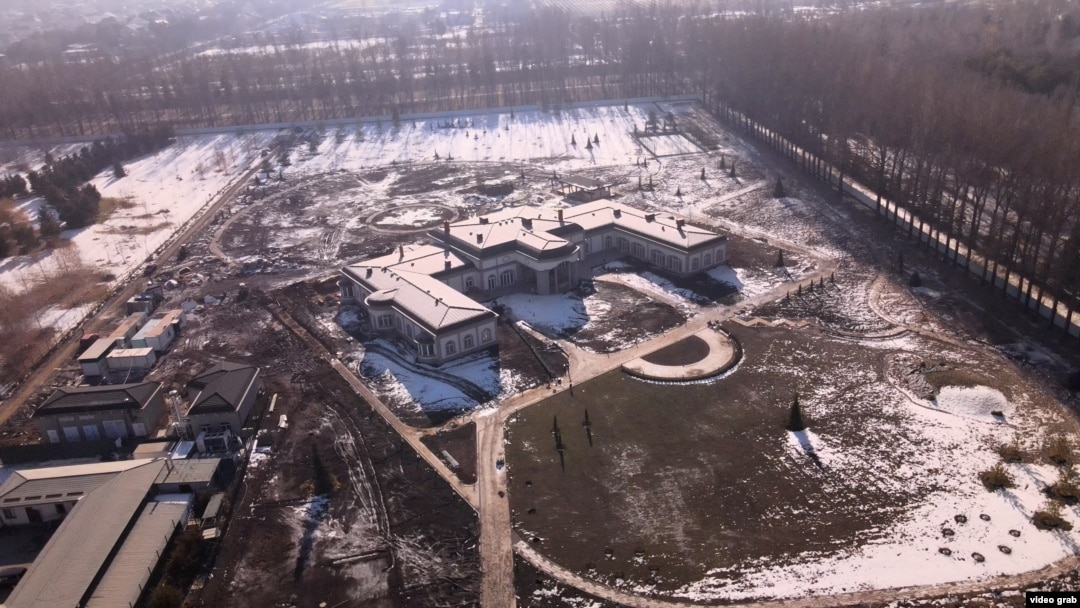 According to offi­cial records, the next three plots — with a total area of 6.5 hectares — belong to Darigha Nazarbaeva, the for­mer pres­i­den­t's eldest daugh­ter, who is also a mem­ber of parliament.
A 2,350-square-meter man­sion, which is also reg­is­tered as Nazarbaeva's pri­vate prop­er­ty, is near completion.
There is anoth­er plot of land near­by that at some 2.4 hectares is small­er in size com­pared to oth­er res­i­dences. Official doc­u­ments show that it's owned by a busi­ness com­pa­ny called the DLS Group. Darigha Nazarbaeva has in the past been reg­is­tered as the sole founder of the DLS Group.
A House Befitting The Head Of The Family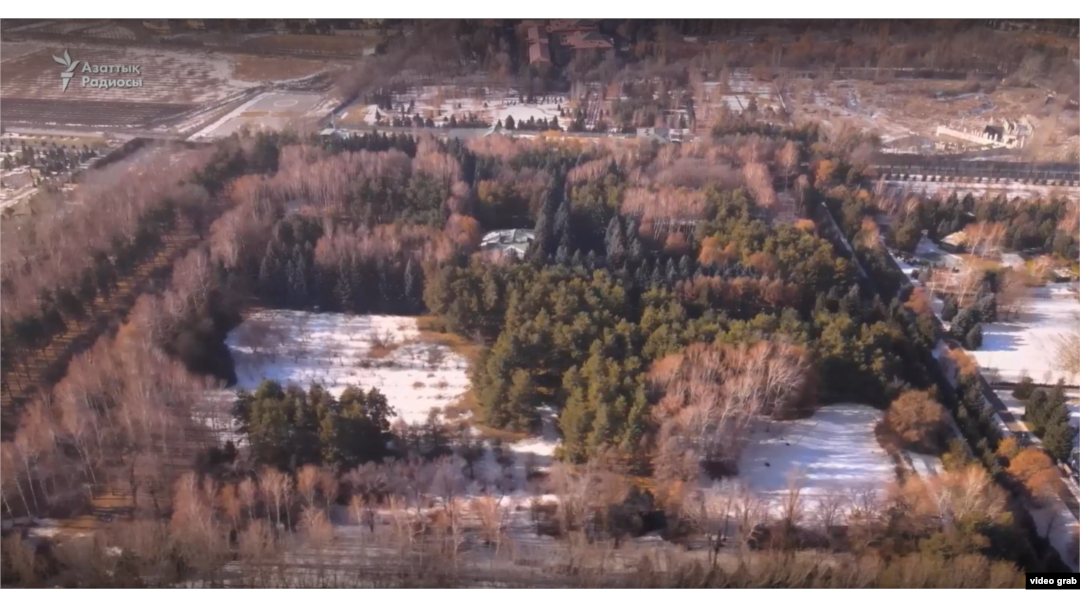 There is anoth­er large area next to the three sis­ters' plots that belongs to the head of the fam­i­ly, for­mer President Nazarbaev.
RFE/RL's inves­ti­ga­tion revealed that the total area is near­ly 13 hectares, although the land-reg­istry record doc­u­ments only half of its actu­al size.
Google Earth images show a sin­gle house sur­round­ed by sev­er­al rows of trees. There is also a small arti­fi­cial lake and a ten­nis court on the site.
During the Soviet era, the prop­er­ty belonged to the state and was an offi­cial res­i­dence of the first sec­re­tary of Kazakhstan's Communist Party, the high­est office in the coun­try. Nazarbaev moved into the house in 1989 when he was appoint­ed first secretary.
During Nazarbaev's pres­i­den­cy, Kazakhstan passed the Law on the First President, giv­ing Nazarbaev the right to trans­fer his offi­cial res­i­dence and dacha into his pri­vate own­er­ship after leav­ing office.
It's not clear whether Nazarbaev would argue that he received the house accord­ing to the First President leg­is­la­tion, although it was pri­va­tized by him long before his sur­prise res­ig­na­tion in 2019.
The for­mer grace-and-favor house is not the only res­i­dence the for­mer pres­i­dent owns in this exclu­sive neighborhood.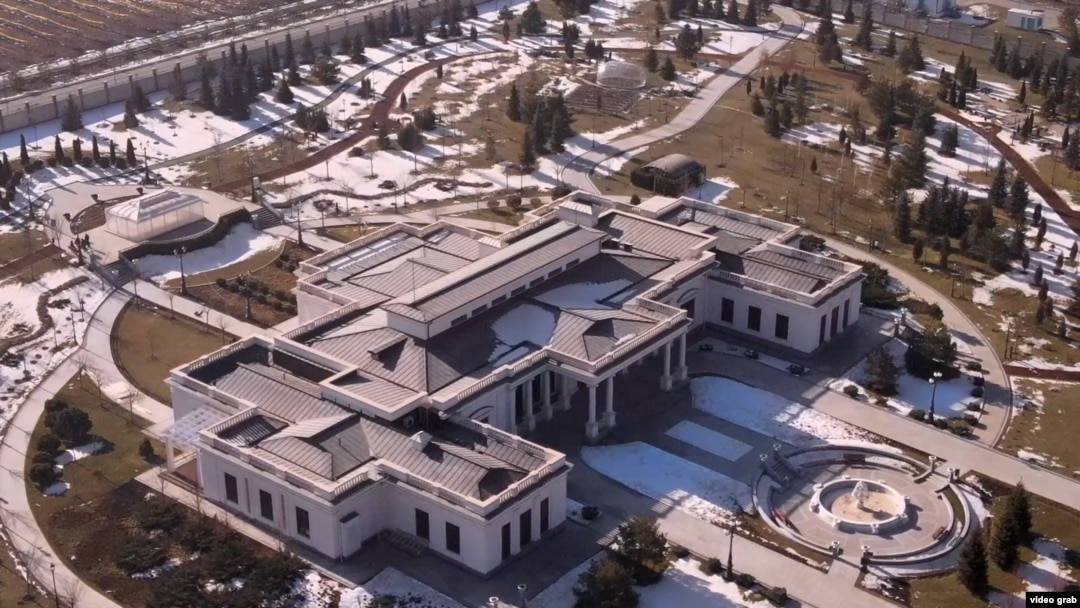 A new 2,350-square-meter man­sion was erect­ed in the adja­cent 8.5‑hectare plot in 2018. The res­i­dence boasts two heli­pads, a wood out­build­ing, and a gar­den pond.
The res­i­dence's offi­cial own­er is the Directorate for Real Estate Management LLP, which was found­ed by the Elbasy Fund. That fund belongs to Nazarbaev, who holds the title of "elbasy," or leader of the nation.
Keeping It In The Family
Among the landown­ers in the area is 37-year-old Korlan Sharipbaeva, whose father, Kairat Sharipbaev, is thought to be mar­ried to Darigha Nazarbaeva. Sharipbaev had been the chair­man of the board of Kazakhstan's monop­oly gas trad­er, KazTransGas, until he was fired ear­li­er this month after wide­spread unrest that engulfed the country.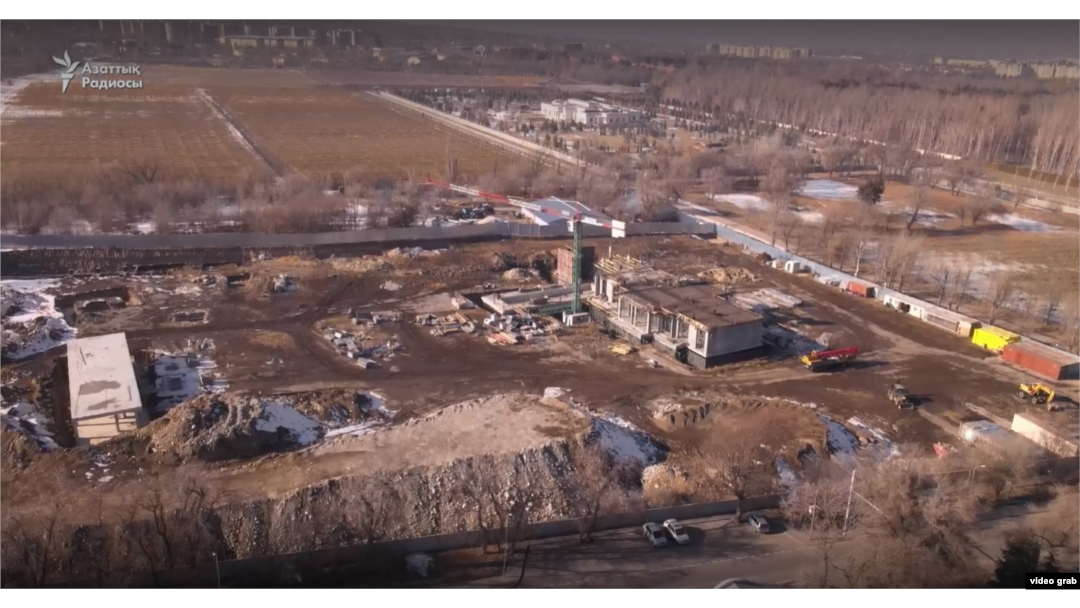 Meanwhile, con­struc­tion is under way on three hectares near­by. According to offi­cial doc­u­ments, the pres­i­den­tial admin­is­tra­tion has the right to use this land until the end of 2023.
When con­tact­ed by RFE/RL, the pres­i­den­tial admin­is­tra­tion said "a state-man­dat­ed project is being imple­ment­ed at the site."
The con­struc­tion work is being car­ried out by the Swiss com­pa­ny B&A Contractors. The com­pa­ny is part of the Mabetex Group, which has con­struct­ed sev­er­al state build­ings in Kazakhstan, includ­ing the Aqorda pres­i­den­tial palace, the par­lia­ment, an air­port, and an opera and bal­let the­ater in the cap­i­tal, Nur-Sultan.
Nephew's 'Wife' Gets A Palace, Too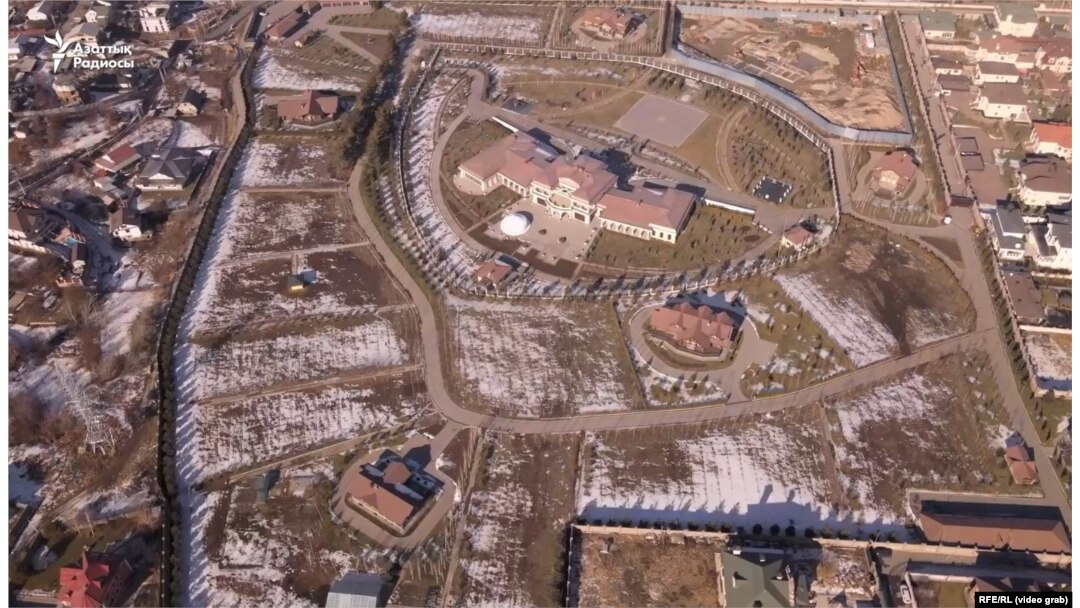 Nazarbaev's rel­a­tives have also received land in the upper part of the ter­ri­to­ry, some 2 kilo­me­ters from the Park of the First President.
There are five large wood­en cot­tages, a one-sto­ry wood­en house, and a man­sion locat­ed in the area sur­round­ed by high fences.
The 12.5‑hectare ter­ri­to­ry also includes at least 15 sep­a­rate plots of land that are being pre­pared for devel­op­ment. Construction seems to be in full swing at one of the plots.
In addi­tion, there are two large mul­ticar garages, ware­house-like facil­i­ties, and an outbuilding.
There is large palace at the cen­ter of the ter­ri­to­ry that stands out among the oth­er build­ings because of its mas­sive size. There is a heli­pad, a chil­dren's play­ground, and a sports field in the yard, which is fenced.
But there are no walls or bar­ri­ers between the oth­er plots and hous­es in the area.
An old map of Almaty shows that a dairy farm in this area had been demol­ished and that con­struc­tion of new build­ings had begun by 2012.
According to offi­cial doc­u­ments, the exclu­sive dwellings are owned by Asel Bakhtiyar-qyzy, who is believed to be the wife of Nazarbaev's nephew, Kairat Satybaldy. The cou­ple report­ed­ly have three children.
Satybaldy is one of the rich­est peo­ple in Kazakhstan. In 2018, Forbes esti­mat­ed his net worth at $163 mil­lion. The total assets of Skyline Investment Company S.A., which is reg­is­tered in Satybaldy's name in Luxembourg, amount­ed to $266 mil­lion in 2018.
The Almaly Corporation And Its Real Owners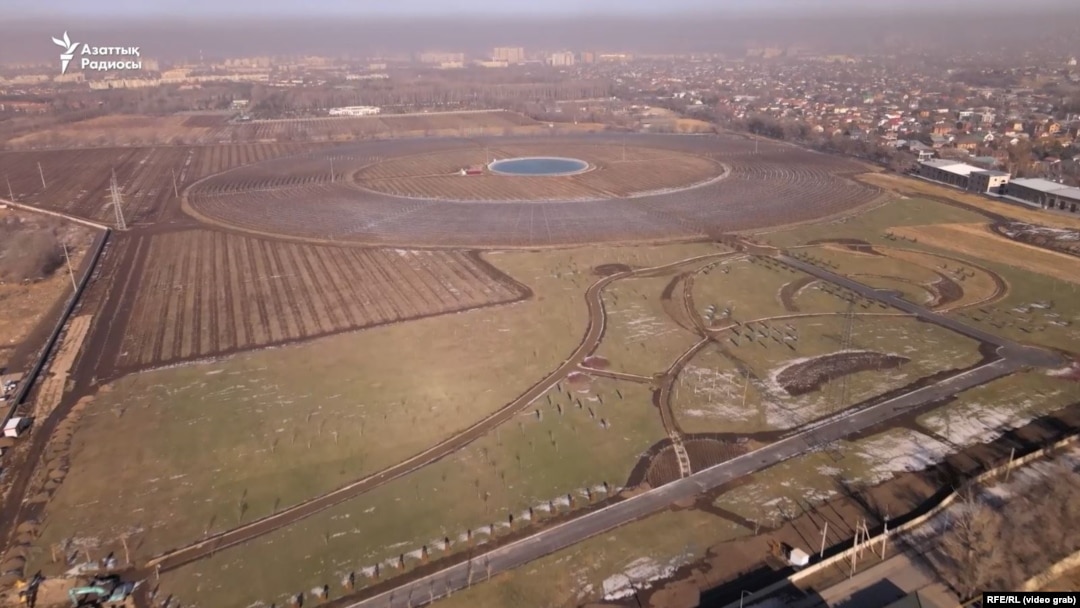 The RFE/RL Kazakh Service inves­ti­ga­tion revealed that the remain­ing 85 hectares of the 135-hectare ter­ri­to­ry is reg­is­tered as a pri­vate estate owned by a com­pa­ny called Almaly.
Almaly is one of many firms estab­lished dur­ing the peri­od of mass pri­va­ti­za­tion of state prop­er­ties in the 1990s.
In 1998, the Economic Department of the pres­i­den­cy and the cen­tral gov­ern­ment was trans­formed into a joint-stock com­pa­ny, KHOZU, and numer­ous state-owned build­ings, lands, and busi­ness­es were trans­ferred to it.
Among them were many offi­cial build­ings, hotels, restau­rants, and kinder­gartens, as well as the well-known state farm Alatau, locat­ed in Almaty.
The state-owned KHOZU was lat­er turned into a pri­vate lim­it­ed com­pa­ny, called the KHOZU Corporation. Accordingly, all of its land, build­ings, and busi­ness­es became pri­vate property.
Vladimir Ni
A long­time Nazarbaev aide, Vladimir Ni, was appoint­ed the head of the cor­po­ra­tion. After Ni's death in 2010, the KHOZU Corporation was renamed Almaly.
According to Almaly's tax records, it has an annu­al rev­enue of about 16 bil­lon tenges ($36.7 million).
One of the two founders who also man­ages Almaly through the Nauryz Corporation is Noord Holland Trading Company B.V., which is reg­is­tered in the Netherlands.
Meanwhile, Nazarbaev famous­ly urged Kazakhs "not to hide" their mon­ey abroad.
"Look, all off­shore havens are being exposed. It will bring dis­grace to [their own­ers], it will be their night­mare," Nazarbaev said in 2013. "That's why [you should] invest your mon­ey in Kazakhstan. Don't be afraid."
The sec­ond founder of the Almaly Corporation is Vertex Holding. It belongs to bil­lion­aire busi­ness­man Vladimir Zhumanbaev, who is on the board of direc­tors of cop­per-min­ing giant KazakhMys.
Nazarbaev asso­ciate Ni had served as the chair­man of the board of KazakhMys until his death.
Almaly's estate includes 46 hectares of agri­cul­tur­al land that has been leased by Citic Orchard, a fruit and nut farm­ing company.
Citic Orchard is linked to the Singapore-reg­is­tered Citic Agriculture and a Kazakh com­pa­ny, Agriland, which was found­ed by three for­mer busi­ness asso­ciates of Timur Kulibaev. The fourth founder of Agriland is a pri­vate com­pa­ny owned by him.
RFE/RL's Kazakh Service has asked Nazarbaev, his rel­a­tives, and gov­ern­ment agen­cies for com­ment on how the fam­i­ly obtained pri­vate own­er­ship of the land in Almaty's Bostandyk. It had not received a response at the time of publication
Original sor­ce of inves­ti­ga­tion: RFE/RL Kazakh service